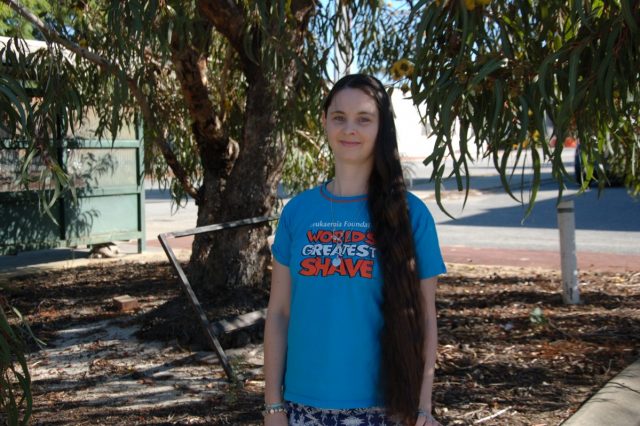 One Kelmscott mum is shaving 14 years of hair growth to donate it to the Leukaemia foundation during the 2021 Worlds Greatest Shave.
Mum of three, Selena Storer has worn her hair in a single plait for four years, unable to style it easily due to the length.
Ms Storer said she no longer felt she appreciated her long hair anymore and after seeing an advertisement in 2018 for the World's Greatest Shave decided she would do it.
"I said one day I'll do that, I thought it would be a little later on in life," she said.
"Then one day I think I tried doing something with my hair and decided that's it, the long hairs not working."
Hosting a sausage sizzle, games and the shave during a private gathering with friends will see Ms Storer auction off the rights to the cut and shave.
"I've been in touch with a hairdresser, who has a small business, and she's going to be there on the day,"
"She's going to donate her time and do some haircuts for other people and any money she takes from that she's going to donate."
Ms Storer said it's nice to have a hairdresser supervising, as her friends are in for a battle over who gets cutting rights.
"I've had a friend tell me she won't donate just yet because she wants to shave my head and she wants to pay for that," she said.
Various businesses across Armadale have donated including a haircut voucher and an air fryer, which will be raffled off on the day.
Guests will have the opportunity to guess the weight and length of the hair.
"I think I'm going to be nervous on the day," she said.
"Even just not having my plait fall over my shoulder when I move around will be a big change."
The hair will be donated to the Leukaemia Foundation to make wigs for Australians diagnosed with cancer.
Visit https://secure.leukaemiafoundation.org.au/registrant/FundraisingPage.aspx?RegistrationID=793801 to support or donate to Selena.