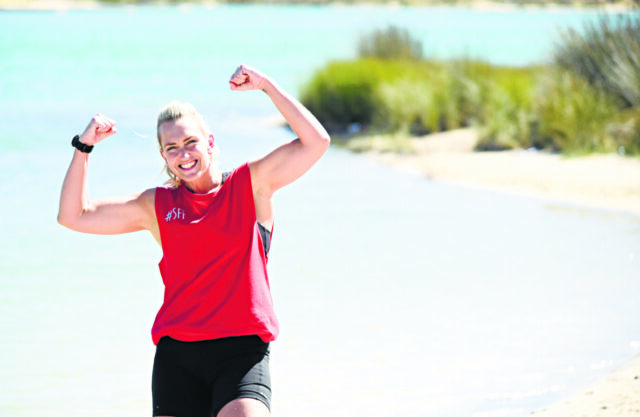 14 years ago, Sarah Ford was in a dark place. Her marriage was falling apart and a serious workplace incident pushed her out of her nursing career and into a long, painful journey with anxiety, depression and post-traumatic stress disorder.
This year, the Byford-based fitness instructor is challenging herself with some truly dizzying goals, including her first ever marathon, in an effort to encourage other women to regain control of their lives in the same way she did so many years ago.
"I felt I had lost my identity. I didn't recognise myself. I honestly didn't know what to do with my life," Sarah said.
"I was very unwell and I knew I had to do something. I had a realisation it was time to change."
By chance, Sarah stumbled across a pamphlet for a Body Combat class – a cardio-based, mixed martial arts, group fitness workout.
"I went to a class, I was so nervous, so unfit and overweight, but when I left, even though I couldn't keep up, I was like, 'that was the best thing ever'," she said.
"Walking into that class saved my life."
Now a veteran with 14 years in the fitness industry, it is difficult to imagine Sarah as anything other than the enthusiastic, confident and passionate mental health advocate she is now.
Having recently received State and national recognition with the AUSactive Group Fitness Leader Award 2022, Sarah is determined to offer women the chance to regain control over their own lives in the same way she did all those years ago.
With that goal in mind, Sarah has recently launched the Sarah Ford Foundation, and is taking on a daunting schedule of physical challenges in 2023, starting with her first triathlon on Sunday, January 22.
"I've been teaching a women's-only group training class and I thought, 'why isn't there something to help women who are disadvantaged and want to get their life back?'" Sarah said.
"That's where the idea for the foundation came from.
"After the pandemic, I felt it was needed now more than ever.
"Fitness saved my life, and it is my mission to lead by example, and share this gift with others.
"In March 2024, it is my goal to start classes and give women who may be in a similarly desperate position to me hope and support, so that they may find health and healing."
Intending to raise $500 for every kilometre she endures, Sarah is following the Armadale Triathlon with a virtual Rottnest Swim in February, the HBF half-marathon Run For A Reason in May and the Perth Running Festival Marathon in October.
"I am terrified, I feel very vulnerable," Sarah said.
"But I hope my vulnerability will send a message to even just one person to say 'it will be alright, I've got this.'
"There's something to be gained from going through adversity, and these things have transferred into other areas of my life – when you achieve your goals, you find something in yourself you didn't know was there, you reach the next level.
"I think about women coming out of violence, if they can get their confidence and self-worth up, that gives you something.
"There's no judgment, you can fail, you just learn to get back up and keep trying.
"That's how my life changed."
Visit gofundme.com/f/fitness-saved-my-life-help-me-pass-on-the-gift