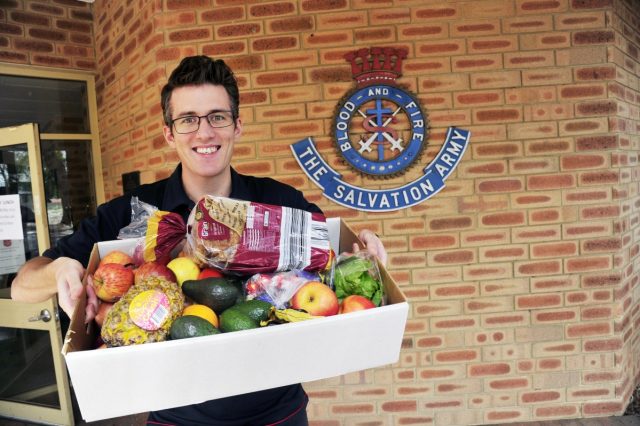 After more than 55 years of knocking on doors each May, The Salvation Army is taking the Red Shield Appeal digital in response to COVID-19's impact on social contact.
The Red Shield Appeal is the main way for the Salvos team to raise money to carry out welfare work, such as food parcels, community meals and Christmas relief.
Community members within the city of Gosnells are being encouraged to become digital fundraisers and using a suburb or postcode to find their nearest Red Shield Appeal to help those doing it tough.
Gosnells Salvation Army church secretary Mavis Clark said the appeal raises a good amount of money each year, but fears this year might be difficult.
"We are doing letterbox drops with a flyer that lets people know how they can donate," she said.
"We have had some cash donations come in and I have some donations promised, they will either be cheques or paid into our Red Shield bank account.
"This year is very difficult, especially as a lot of older people won't use the digital approach.
"If we get a lot less funds than usual a lot of our welfare work will have to be cut back."
The team hope to enlist 10,000 virtual collectors to sign up and fundraise for the appeal that has been extended until June 30.
Lieutenant Ben Hollis said the money raised will stay in the local community of Gosnells and help to fund a range of local initiatives.
"Last year these funds helped in providing a free community lunch for those socially excluded and experiencing hardship as well as increasing our capacity of our Emergency Relief program called 'Doorways'," he said.
"The Salvos are going digital this year and it's easier than ever to volunteer your time and help raise money for those in need.
"We know when the chips are down Aussies come together and do what they can to give hope, this is no more important than now."
So far only four people have donated.
Ms Clark urged the community and those online to jump in and help raise funds by clicking digitaldoorknock.salvationarmy. org.au/t/gosnells-salvos or calling 9398 2244 from Tuesday to Friday, 9am to 3pm.