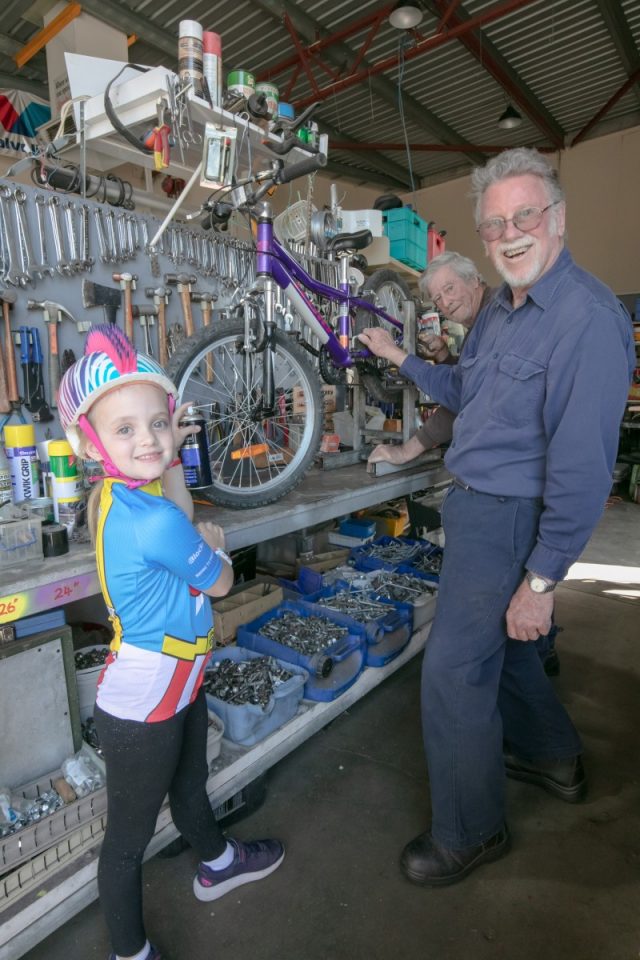 The Shed Men of Canning Vale met with fundraising star Sage Broughman last week, with the seven-year-old Thornlie dynamo edging ever closer to her goal of cycling 50 kilometres to raise money for children with cancer.
Sage's three rides, her most impressive being a 11.5km ride on Friday night ride with her father, have seen her rack up 22 kilometres, leaving just 28 to go.
Her fundraising efforts are just as impressive, with the Shed Men's donation of $2587.50 pushing her up to a total of $3657.78 and a ranking of 33rd in Australia and 3rd in WA.
Of course, that amount of cycling puts a strain on the ride.
Last week, Sage met the Shed Men at their facility in Canning Vale to present them with a thank-you certificate for their generous donation, but it was the Shed Men who once again proved they have Sage's back when Bruce Crane noticed some urgently-needed repairs to her bike.
"We put her bike up on the workshop bench for the photo and it's lucky we did, because there was no rear reflector," he said.
"We found one and fixed that up, and the bike stand had a bit of a rattle and was quite loose so we fixed that up for her.
"Her bike obviously needed a few running repairs after all the kilometres she's covered."
Mr Crane said the Shed Men of Canning Vale were extremely impressed with Sage.
"She's great young girl, she's got a positive attitude, she's very determined and she's going to do very well in life I think," he said.
"We're very appreciative of the certificate she made, it will take pride of place on the wall of the Shed Men workshop."