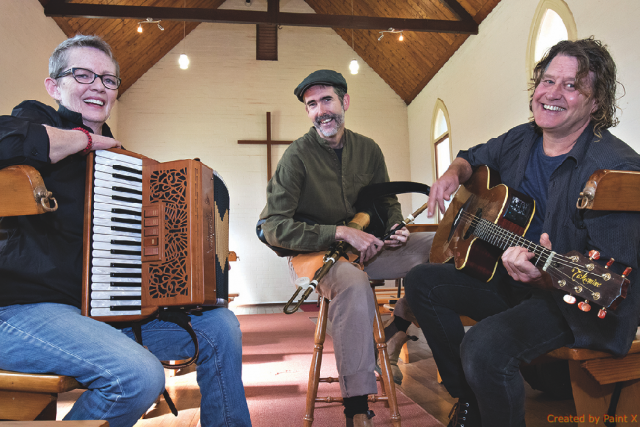 One man's journey of self-discovery will frame the first of three memorable musical concerts to be held at Minnawarra Chapel as part of this year's Armadale Arts Festival.
Fifth-generation Roleystone local Chris Horgan is a master of playing and making traditional Celtic instruments, a passion he developed while researching his family's history in Ireland.
"Not being indigenous, I was a little lost to who I was when I was younger," Mr Horgan said.
"It was really the music that inspired me to follow my ancestry. I got in contact with a few people and ended up at the Irish Club in Subiaco. That's really when I fell in love with the music."
"Australia was my only home, but my ancestors came from elsewhere. In my twenties, I travelled to Ireland to meet my distant family and learn more of both the modern and ancient Celtic culture.
"It is part of my journey to find who I was, as an Australian."
The decision to travel to his ancestral homeland was one of passion. With little more than the bag on his back, he embarked on a three-month journey to take in as much of the British Isles as he could.
"I had a great auntie who was still in Australia. I flew into London, borrowed a bicycle, and rode though Wales and Ireland," Mr Horgan said.
"It was amazing, because I saw so many places you wouldn't normally see.
"The roads are narrow so I had to take country backroads everywhere. I'd roll into a town, go into the pub, and everyone would just stare at me.
"But very quickly people would begin chatting to me and offering me places to stay. It was a great experience."
Bringing his newfound sense of identity and skills in woodworking and musicianship back home, Mr Horgan formed Jarrah Celtic, a group of like-minded musicians who blend traditional Celtic and Australiana folk to create something which Mr Horgan hopes exemplifies the place he calls home.
He hopes that the show – which kicks off from 6.30pm on Saturday May 13 – will be less about the band, and more about putting Armadale on the musical map.
"As many people know, Armadale has a reputation for crime and anti-social behaviour, and now teenage mums as we've just heard about," Mr Horgan said.
"But I'm hoping we can share a better story of Armadale.
"Armadale has an abundance of musicians and artists that live here; people engaged in diverse and interesting cultures."
Following the May 13 show, local favourite Cathie Travers and the Classic Sounds Orchestra perform on May 19 from 5pm, and the series wraps up with a rare concert of melodic metal percussion instruments form 4pm on May 26.
For tickets and more information, visit Perth Hills Armadale Visitor Centre, go to visitarmadale.com.au or call 9394 5410.