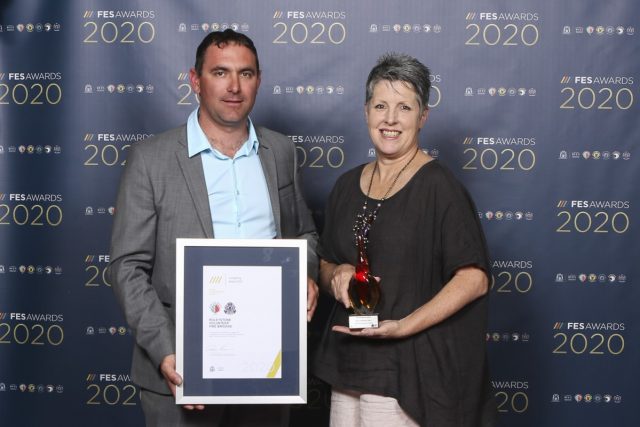 A life-saving engagement strategy aimed at improving bushfire preparedness in Perth's Hills has earned Roleystone's Volunteer Fire Brigade a gong at this year's state firefighting awards.
The brigade received the Team Achievement Award for its work in launching the strategy and keeping the community informed after being nominated by the Department of Fire and Emergency Service's own community preparedness team.
The campaign saw the brigade engage stakeholders to inspire behavioural change, driven by increased social media engagement, community events, and presentations to local community groups.
The brigade also organised an evacuation drill to give the community a more practical understanding of bushfire safety – efforts that were put to the test during a bushfire emergency warning late last year.
The community successfully enacted its bushfire plans, demonstrating the success of the campaign.
The value of bushfire preparedness is not lost on the local brigade, which was one of the first to attend the devastating Kelmscott-Roleystone fire in 2011 that destroyed 72 homes and significantly damaged 37.
With the 10th anniversary of the incident now just months away, Roleystone Volunteer Fire Brigade community engagement officer Steven Jefferies said it was just as important as ever to promote behavioural change among residents and increase awareness.
Since its inception in 1957, the brigade has been a vital part of the local community – fighting fires in the local grassland and Jarrah environment and attending structural, vehicle and HAZMAT incidents.
Department of Fire and Emergency Services Commissioner Darren Klemm said this year's awards recipients had all made significant contributions to WA's emergency services through their dedication to community safety.
"These awards recognise the achievements of Western Australia's career and volunteer firefighters who have displayed exceptional leadership, dedication and empathy in their service to this state," he said.
"A common theme among the winners was their commitment to strengthening community resilience, either by growing volunteer brigades or engaging the public through initiatives such as improving fire awareness in vulnerable or at-risk communities.
"Congratulations to the 2020 Firefighting Award winners – they deserve our gratitude for ensuring that Western Australia is a safer place to live, work and play."