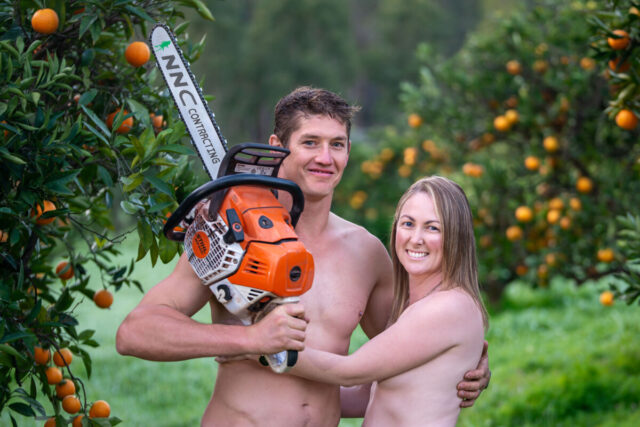 A fundraiser for the Cancer Council has shown the community of Roleystone in a new light.
The Roleystone Laid Bare calendar features local 'models' who all have skin in the game – literally.
Each person photographed for the tastefully nude calendar has confronted cancer.
A range of locals volunteered themselves for the project including a trio from Luxe Mane Hairdressers, two local dog groomers, a tree lopper and some mums from Roleystone Junior Tigers who bared all for one of their young players who died this year from sarcoma.
Local artist Kitty Woodhouse – AKA the Maiden of Metal – was one of the models who put her hand up for the gig after watching her mother-in-law, Glenda O'Sullivan, battle and ultimately beat triple-negative breast cancer 10 years ago.
"She is tough as nails, and was always on top of her health. But that cancer diagnosis really got to her. She was devastated and it was hard to see that," Kitty said.
"But she's a survivor. All I can say is that regular mammograms are so important and early detection is key."
Kitty has since been involved in cancer fundraisers over a number of years, sometimes donating pieces of her craft to raise money.
But the usually camera-shy metal sculptor said this experience took her completely out of her comfort zone.
"I replied to the call-out for this project thinking no one would get back to me, so when I found out I was going to be photographed it was nerve-wracking," she said.
But creativity is rarely ever forged from safe places.
Together with local photographer Steve Parry, who volunteered his time for the calendar project, Kitty has produced a flaming masterpiece that sticks its middle finger up to the 'Big C'.
"I was full stressy, especially using a welder with no top on, and I had to keep squeezing my boobs back into my overalls because they kept popping out," she said.
"But Steve straight away made me feel comfortable and we spent as much time as I needed until I was happy," she said.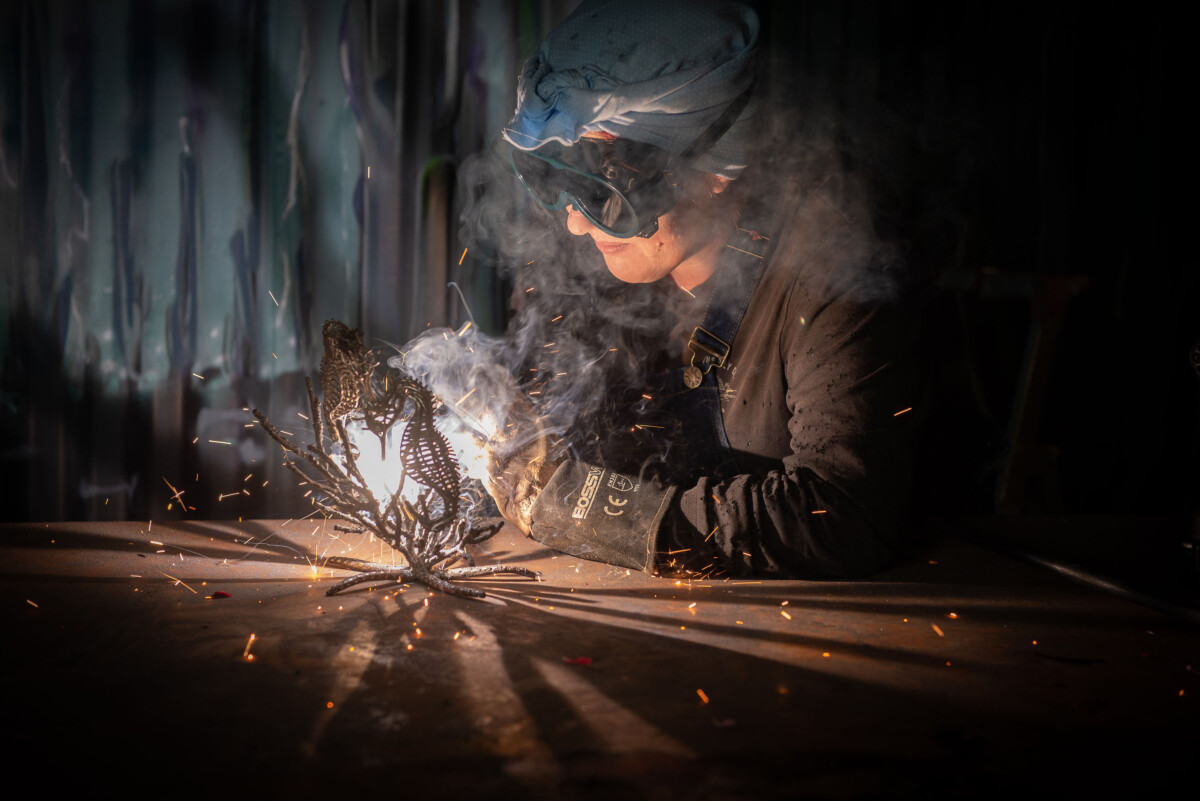 The whole family got involved in the creative process, with Kitty's partner Dan O'Sullivan workshopping ways to set the giant metal 'C' alight and adding ambience to the shot with a stream of sparks, while daughter Summer added her own artistic embellishments.
"We had flames overshooting the shed out the back during our practice run," Dan said.
"It was good fun."
Kitty has specifically asked for her picture not to be photoshopped: "I wanted to put all of me out there".
And she will continue to ride this momentum of baring all, but with her art.
"I'm still quite shy, but I'm gonna start doing competitions and not hide myself away," she said.
She will also continue to inspire others through her Women On The Tools masterclasses.
The Roleystone Laid Bare calendars are a steal at $20 each, with all funds going to the Cancer Council.
You'll want to get a copy for the front cover alone which features 66 bravely bare bums at Boulder Rock on a freezing winter morning.
Project Coordinator Linda Moore said "the chill of the morning was made bearable because of the camaraderie coming from the group".
You can pick one up from locations around town including the Roleystone Karragullen Community Bank and The Armadale Visitor Centre. And if you're planning to head to the Kelmscott Show, there'll be copies for sale at the Perth Hills table of the City of Armadale tent.