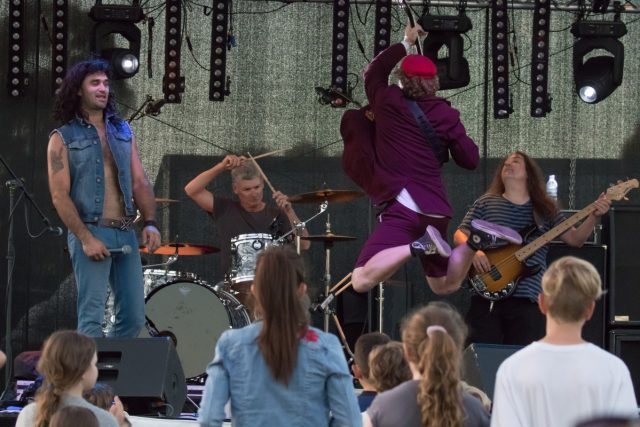 A family-friendly concert in Mundijong last weekend saw more than 500 attendees rocking out to some of AC/DC's best foot-stomping classics. 
Perth's most authentic AC/DC tribute band, The Australian AC/DC Experience, entertained audiences at the Shire of Serpentine Jarrahdale's sunset concert at Mundijong Oval, which featured plenty of food and fun for people of all ages. 
Rhythm guitarist and vocalist Alex Chappelle, who encompasses the role of Malcolm Young, said it was an enjoyable experience. 
"Compared to other gigs this was one of the more memorable," he said. 
"All factors were considered such as stage, production, power and food. 
"The production was first class and high in standard so the light show was amazing, the sound from the PA reached everyone with clarity and the sound engineers produced a well-balanced 'mix' where all instruments and voices were heard. 
"In a nutshell, it was an outstanding event and just the right weather for it too." 
Mr Chappelle said although the band has only been performing together in Perth for a year, all members were seasoned musicians who have decades of experience between them. 
"We played at our most optimum level, which the crowd were able to experience and it was absolutely a gig that we would do again," he said. 
Photographs – Aaron Van Rongen.