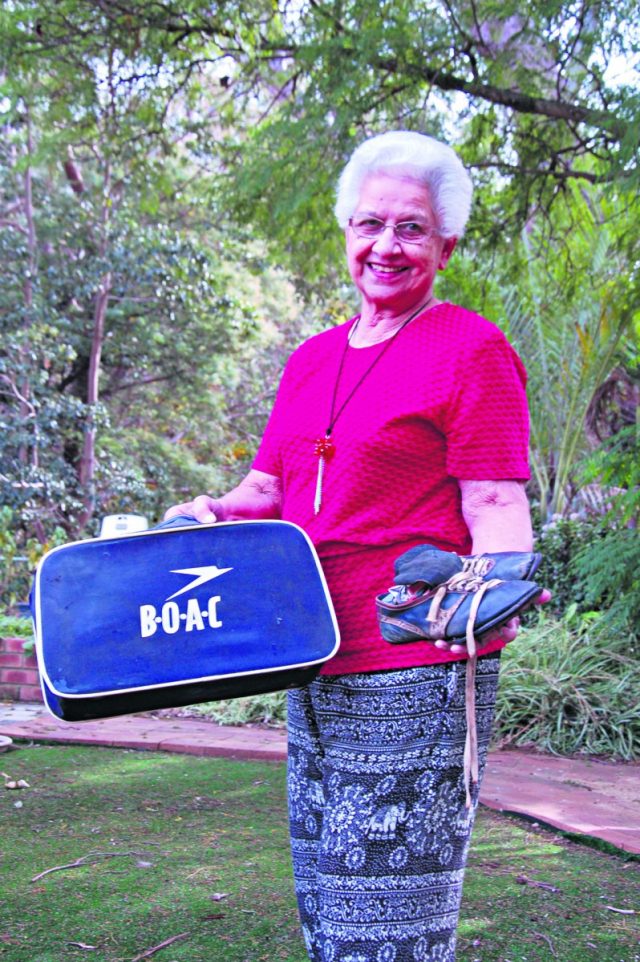 Sixty years after making history and setting a world record Armadale resident Carmen Williams was returning to Malaysia to cap off her amazing athletic story.
Ms Williams nee Koelmeyer competed in the 1959, and first South East Asian Peninsular Games held in Bangkok.
She won gold in the 100m sprint, silver in the 200m and bronze in the long jump.
After retirement she moved to WA and left her professional athletic career behind but the love of adrenaline has never left her.
Ms Williams has breathed new life into those memories with her decision to donate her gear consisting of shoes, bag and uniforms to the National Museum of Malaysia.
"It's in my blood, I'll always be a sprinter even if I'm not sprinting," she said.
"I still stay healthy and active, I even still get in trouble with my husband for taking off at traffic lights too fast."
Ms Williams started running as a 13-year-old in what was then Malaya, still a country barely out of colonialism.
"Back then there was no gym, there was no clubhouse for us, we were just children, we weren't allowed in," she said.
"But we did have a very dedicated coach, his name was Mr Lim Thai Hee.
"School in Malaya would end at 1pm before the hottest part of the day and most children would go home but athletes would have to train.
"So from 2.30pm I would take my old-fashioned bike and ride through the heat to the track.
"It was a long and tiring ride but I was devoted, I just wanted to run."
Ms Williams went on to have a stellar amateur career through the 1950s, travelling to places like Hong Kong, Manila and Kowloon to compete in the Asian Games.
It eventually led to her stepping up to the top podium at the first South East Asian Peninsular Games with the relatively new Malaysian National Anthem playing in the background.
"It was such an amazing experience to be there," she said.
"Just to have all of these countries come together and to be able to represent your own in that way, I felt so proud.
"I am five foot three inches but at that moment I felt nine feet tall. "
It was the greatest moment in Ms Williams' professional career but also the last.
"I knew I was done after that race," she said.
"I'd had enough and I wanted to end on a high, I didn't want to get beaten really but I knew I had to move on at that point as well."
Ms Williams made the decision to donate her gear after a visit to her old home country.
"All this gear, it has basically just been sitting in the chest in my living room for years now," she said.
"I thought, 'Wouldn't it be better if all of it went back to Kuala Lumpur where it would be in the place where I set the record?'
"So the last time I went back to Kuala Lumpur to see family I visited the museum and asked them if they would be interested in having it.
"They were very interested so that's where it's all going now."
Ms Williams, despite the fond memories, has no problems letting go of the gear either.
"You know, I'm not using any of it here so it may as well go somewhere where people can see it," she said.
"Especially younger people.
"If I can inspire other people to run, all the better."