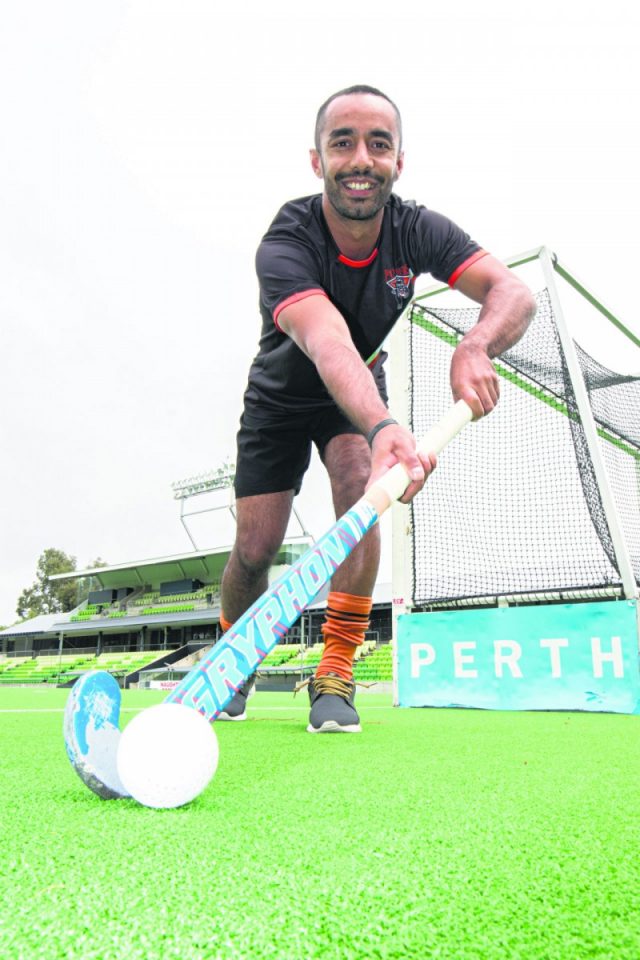 Almost 15 years after he turned his back on soccer, Jason Gabriel has just made hockey history.
The Victoria Park Xavier Hockey Club striker has joined the ranks of a select few that have taken to the field to play 300 games in the State's Premier League after their match against the Old Guildford Mundaring Hockey Club on Sunday.
Considered one of the most competitive domestic competitions in the world, Western Australia's top-flight division sees members of the Australian national teams – the Kookaburras and Hockeyroos – incorporated into the tournament along with a host of other hockey stars from across the world.
But what makes the 30-year-old's journey even more impressive is that it could have all turned out quite differently had he not shifted his sporting allegiances as a teenager.
"Dad always played hockey but when I was a kid I never played properly as a junior," Mr Gabriel said.
"I played soccer until I was 14 and when I was 15 I started to play hockey and it all moved quite quickly.
"After that, I was picked in the U15 State Team and everything else went from there.
"I didn't have a game-style base coming through so I was quite lucky I had some great people around me to help me out. It took a while for me to get to grips with things skill-wise but I suppose I had some natural ability from playing with my dad in the back garden as a kid.
"I think at the time I enjoyed something different. I definitely didn't understand the fundamentals of the game but I picked it up fairly quick because of the similarities with soccer."
Shortly after joining Victoria Park Xavier Hockey Club as a 16-year-old Jason was handed his Premier League debut – an occasion which almost off to a dream start after he cut in from the left-wing and drilled a shot against the post in his first five minutes on the field.
With career highlights including two Premierships in 2008 and 2012, representing the WA Thundersticks and playing with and against some of the most iconic hockey players of recent times, Jason has now added another milestone to his illustrious career.
"I've been lucky with my body. I think I've only missed one game through injury so the longevity of my body being kind to me is one of the things I'd put it all down to," he said.
"I'd like to go to 400 – that would be my goal. My good friend Phil Hulbert holds the [Victoria Park Hockey Club Premier League appearance] record with 433 so I'd like to rival that but it all depends on how I'm going body and performance wise."