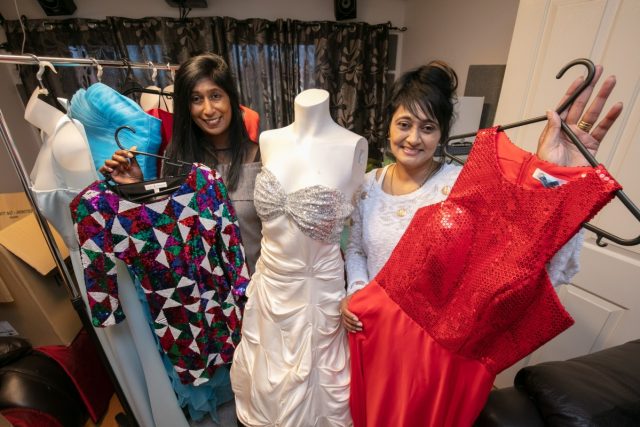 Restore a Smile Foundation have come up with a new initiative to assist disadvantaged students in the local area find suitable attire for year 12 balls, free of charge.
It is called the Belle of the Ball initiative and later on this year it will become a community program that will not only help young girls have their dream ball but also create jobs for woman facing domestic violence.
Founder of the not-for-profit organisation and 2019 Citizen of the Year Pamela Govender said it all started after speaking to a mother about year 12 balls and the excitement and struggles that come with the night.
Although Ms Govender doesn't have a daughter, she realised from speaking to her friend that it can be a very difficult time for many parents who perhaps don't have enough resources to make this night perfect.
"Preparation for ball nights can be stressful for many parents, and with girls being so competitive nowadays you never really know the struggles or the money that was spent behind that dress, those shoes or the makeup and hair for just one night," she said.
"So, I just thought what could I do to make that better?
"Some girls don't wear these dresses ever again, so I thought I could collect them and make it available for girls that can't."
Ms Govender then went ahead with the idea and after posting it on social media, she was amazed with the response and the number of women who wanted to donate their dresses.
As of now she has collected more than 150 dresses from the community.
The next stage for Restore a Smile Foundation is to find the right venue and hire a group of local women from Zonta House to redesign and restyle them to appeal to the younger generation.
"We thought it would be an honour to be able to give women a job, especially during Covid-19 and women facing domestic violence from being stuck in their homes," Ms Govender said.
"So we will provide them with sewing machines to sew these dresses for girls.
"Since we are a non-for-profit, in order to pay them, we will also make the shop available for women who want to buy our items."
Furthermore, in collaboration with local schools, Ms Govender will be notified by the schools which year 12 girls would need a dress depending on their financial situation.
"By doing this we are helping the ones that really need it and these girls will then visit our venue and be able to pick their dream attire.
"Some people in the community have also offered their make-up and hairstyling services and even offered to donate jewellery and handbags."
However, the initiative doesn't just end there, as Ms Govender said she is hoping to make the store available all year around and help women who are going back into the workforce and may need a professional looking attire.
Anyone with ball gowns, evening dresses, suits, or accessories are welcome to contact Ms Govender on 0408 186 142 or visit restoreasmile.org.