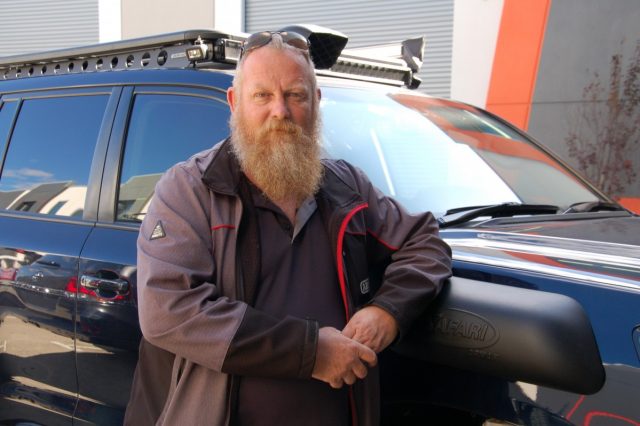 In just four months life completely changed for a 49-year-old Queensland man staying in Langford, who now needs to drive about 46 hours to be back in time for surgery before he is left in a wheelchair.
Originally from Western Australia, Stewart Paternoster has lived in Queensland for more than a decade but his health started deteriorating almost 18 months ago.
Mr Paternoster started losing strength in his legs, he started suffering from Tachycardia, high blood pressure and breathing was becoming extremely difficult.
However, the former car business owner, who travelled to WA in February from Brisbane, had no other choice than to give away his company to one of his employees, after finally finding out that a tumour in his back was rapidly affecting his lymphatic system.
After years of constant medical tests and living with uncertainty, Mr Paternoster only found out about his condition, while staying in WA, after his GP in Queensland informed him recently.
"My heart rate would go up to the roof, up to 200 beats per minute," he said.
"When that happens, I can't breathe and I can't talk, so when I have an episode everybody around me thinks I am having a heart attack but I am not.
"It is my heart overcompensating because the tumour that I have in my back is strangling my nerves and it is not sending the right signals back to my body.
"My lymphatic system is not working properly, so my feet and my legs fill out with water and I can't get rid of it.
"I was gaining between one or two kilos a week while being in WA and I went up to 144 kilos, so it is being a bit of a battle.
"It is treatable but if I wait any longer, I could be left in a wheelchair.
"I only found out about all of this since I've been here in WA and then COVID-19 hit us and I've been trying to get a medical exemption to be able to leave and get the surgery I need."
Mr Paternoster was told he needed to lose weight to be able to sit while undergoing surgery to his back.
Although he has now lost almost 24 kilos since March, Mr Paternoster who has been in the emergency room three times, said it's been difficult living in 'Airbnb' accommodation as cooking is not really an option due to limited resources.
He also wasn't able to get access to rent assistance as he is not a WA resident and is not currently in Queensland.
"I tried to apply for rent assistance here but I wasn't eligible and with all Airbnb's shut now I was really lucky to know the person renting the room, who was kind enough to let me stay and give me a good deal," he said.
"Although financially I am not broke, I can't afford $150 a night in a hotel and if I didn't have accommodation I would be staying in my car.
"I've just finished paying off $350,000 for some hail damage that affected my car business in 2014 and now while officially unemployed I've only received one Centrelink payment since claiming it back in March."
Mr Paternoster is now living in limbo as he waits for his GP in Queensland to send through a medical certificate that will allow him to leave and cross state borders.
"I am basically working through a plan with my GP to get a letter that proves what happened and why I need to go back," he said.
"If I get the permits in time, I will have to lose another 26 kilos within the next three to four weeks before I can sit in the operation room."