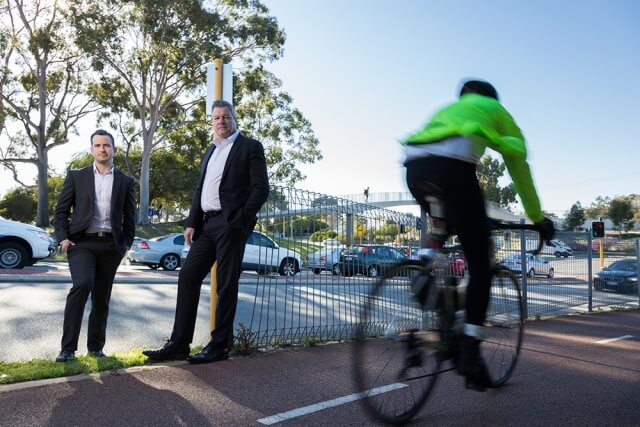 The dangerous Webb Street- Leach Highway intersection in Rossmoyne will be the subject of a traffic management investigation following a decision by City of Canning councillors at their August 16 council meeting.
Bannister ward councillors Ben Kunze and Patrick Hall brought an item to the council urging the city to address issues at the intersection, which have been plaguing the area for up to a decade.
The issues were set to only get worse with recent zoning changes allowing more infill in Rossmoyne and construction set to begin soon on a multi-storey aged residential building just 50 metres from the intersection.
Mr Kunze said Webb Street was one of only two entry and exit points for Rossmoyne residents.
He said with infill in the suburb putting more cars on the road and high school students using the nearby footbridge to walk to school it was dangerous.
"Rossmoyne already has traffic problems and it hasn't even gone through much subdivision so the problem is only going to exacerbate," he said.
"All these kids go to Rossmoyne Senior High School at the same time all the traffic comes through so it's important this intersection is fixed for the safety of the children."
Mr Hall said the city needed to be proactive.
"We're thinking before something terrible happens here, before there's tragedy, let's look at it strategically and plan for the future and some traffic management," he said. Riverton Rossmoyne Shelley Residents Association secretary Caroline Dunsire welcomed the investigation.
"We've been concerned about the area for some time," she said.
Canning chief executive Arthur Kyron said a report would be presented to the council in
March next year outlining the city's proposed actions. "The city will use this time to meet with Main Roads WA to settle on design options," he said.
A Main Roads WA spokeswoman said traffic signal timing changes made to Leach Highway recently had meant some side roads like Webb Street were impacted but it was for the better.
"While there has been an impact on the minor side roads including Webb Street, the overall benefits of the timing review project on network operations far outweigh the minor inconveniences faced by traffic on the side roads," she said.
She said in the five-year period to December 31, 2015 Main Roads WA's crash statistics showed there had been 46 crashes at the intersection but many were driver inattention.
"Of the 46 crashes, 37 (80 per cent) are rear end crashes, which are typically low impact, property damage only type crashes and more often related to driver inattention," she said.