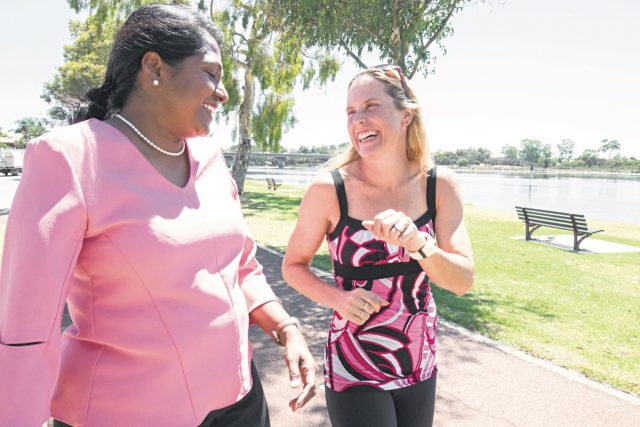 Most people have heard of the Men's Shed, but what about a Women's Lounge?
A City of Canning councillor wants to make it a reality.
Hoping to bring Canning women together, Beeliar ward councillor Yaso Ponnuthurai has requested the city investigate creating a women's support network and forum called Women in Canning.
The group, which is currently only a proposal, would aim to bring together women of ethnicities and cultures to make friends, share talents and develop business networks.
More than half of Canning residents were born overseas and Ms Ponnuthurai, from Sri Lanka, said she recognised the benefits of bringing women and their cultures together.
"There's a Men's Shed, but nothing for women," she said.
Ms Ponnuthurai hoped to host City of Canning-supported monthly events with regular guest speakers from within the group sharing their talents, experiences and advice to other women.
She said there were many cultural groups across Canning, like those for Muslim or Tamil women, but they often kept to themselves.
"How do we bring them out into the community," she said.
"They might have talents we don't know about, so we have to try and bring them together.
"Lots of small businesses are owned by women; cafes, hair salons – anywhere you look, a lot of women do small business."
One woman who has already put her hand up to get involved if the council supports the proposal later this year is three-time Ironman Champion and Shelley resident Kate Bevilaqua.
Ms Bevilaqua, who broke boundaries as the first woman to get a teaching role at Christ Church Grammar School in 2000, said she was keen to support the group by providing tips on where and how to exercise in the region.
"I think it's great," she said.
"There's nothing to lose by trying and seeing what can be done."
Meetings have been proposed to be about an hour a month, with 40 minutes of guest speaking and 20 minutes of socialising.
The proposal was passed at the March 20 council meeting and a detailed review of the proposal's feasibility will be released in May.