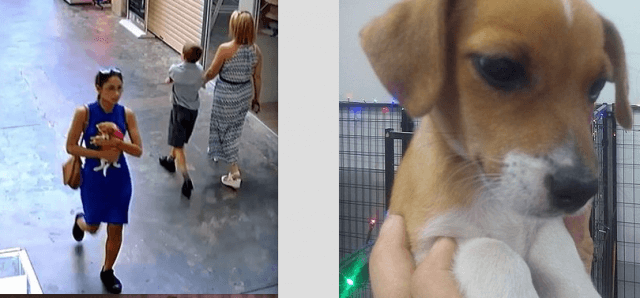 Armadale man Robert Street and owner of 4 Paws and Claws Pet Shop and Spa in Coventry Village had a female Jack Russell allegedly stolen from his shop on Tuesday afternoon.
Mr Street said a young woman came into the store with her boyfriend. Mr Street's grandson accepted the couple's deposit of $100.
"The boyfriend filled out the paper work, but he gave a false name and address," Mr Street said.
"Next thing I know is she did a runner with the puppy, but the electronic store next door caught everything on CCTV."
Mr Street said within minutes of posting the video on Crime Watchers he was flooded with shares, posts and calls.
"One woman said to me she was sat next to the girl and the puppy on the bus," he said.
"It's really amazing how people have been, they've been calling our shop and asking if we are okay.
"My wife is a bit shaken."
The woman who allegedly stole the puppy was identified after she took to Facebook and boasted about the alleged incident.
Mr Street has been to see the police and filed a report.
If you have any information about this incident contact police on 131 444.
*UPDATE*
The puppy has been located today and returned to the store.