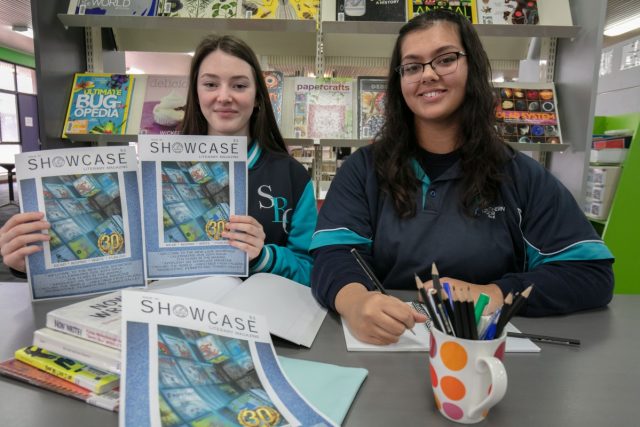 When Poppy McNamara and Kaylee Smith were asked to write a short story for English, they had no idea that it would lead to them becoming published authors.
The two year 12 students from Southern River College were asked to produce a creative work focusing on hope or redemption, and both students approached the task very differently.
Both stories have been included in the latest issue of the Showcase magazine, the quarterly publication of the Gosnells Writers Circle.
Gosnells resident and 17-year-old Poppy McNamara wrote a story called 'A mother's love', which tells the story of a disabled child walking for the first time.
"I wanted to write an uplifting story conveying the idea of hope, as there is so much negativity in the world today," she said.
Poppy said she never thought writing a story in English class would see her story published.
"I feel excited and proud to have had my work published," she said.
"I really like writing from time to time so it is something I might consider pursuing in the future." While 17-year-old Kaylee Smith's story 'A side of couch' is told from the perspective of a puppy who couldn't resist chewing on the family's sofa.
"My story is about a melodramatic dog that gets in trouble for chewing the family couch and embarks on a journey of making a peace-offering, seeking redemption from his owners," she said.
"I was inspired to write this story by the concept of redemption, and when thinking about it, a poor scolded dog just came to mind and I thought it would be a fun story to write about."
Just like Poppy, Kaylee had no idea her story would make it to print, and said she was very proud and excited to see her story have its moment in the spotlight.
"I've always loved writing and, while I see myself heading down a more drawing-based artistic path, writing definitely has a role in my future," she said.
"I like to make stories for fun, and maybe one day I can combine my skills in writing and art to create something like a comic or graphic novel."
English teacher Sione Murray said it was nice for students to compose more whimsical, uplifting pieces in the midst of COVID-19's uncertainty at the time of writing.
"It's always important to celebrate achievement," she said.
"It's also always impressive to me the completely different direction students can go when engaging creatively and still create two really wonderful pieces.
"It's easy to lose sight of the great work students do amid assessment deadlines, exams, and the busy schedule of an ATAR student.
"In that regard, it's quite nice to slow down and reflect, at least for a few moments."
You can pick up a copy of Showcase magazine from local newsagents or contact Showcase on social media to request a copy.