If you want the best steak sandwich in Perth, you officially need to dip in to Canning Vale's Last Local, after chef and owner Mickey Phull took out the Perth of Australian Hotelier's Association of WA Best Steak Sandwich competition.
Competing against sandwiches from Roleystone's Seven Sins, Byford Hotel and Mickey's former haunt, Karalee on Preston, Phull had 12-minutes to put together his Chicago-inspired French Dip Steak Sandwich in front of a panel of judges at Crown Casino.
But with so much preparation involved, Mickey said the cook started much, much earlier, with the final 12 minutes the culmination of what was well over a 12-hour day.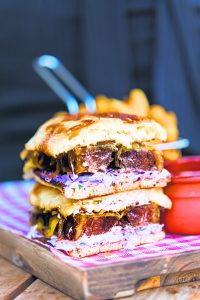 "At the Last Local we make everything from scratch starting in the morning, and when it's gone it's gone, we don't carry anything over for the next day," he said.
"So, for the competition, the cook was on Wednesday so I left Last Local at 1am and was back at 8am prepping, then I went to Crown's kitchen.
"We had an hour to get everything ready, then we had 12 minutes to put anything ever so the soup and the broth, I had to do all that earlier.
"12 minutes was just enough."
Judges Ollie Peterson, Di Bain, AHA's Bradley Woods and Paul Daley couldn't get enough, even if Ms Bain had her doubts about the legitimacy of Mickey's entry.
"She actually asked if all this was allowed, and you know it's already gone through that process, to enter I had to list all the ingredients and explain the process, it met the criteria so maybe she missed the point of it all.
"I didn't say anything, she was looking at Bradley Woods, and I don't know if she enjoyed it but the rest of the judges loved it.
"They'd never seen or tasted anything like this, I don't know how they scored it but I got the win.
"Later on, I was told that between them they said it was phenomenal."
Mickey won the competition in 2013, 2017, 2019 and now 2022, and his mind is now ticking over as to exactly how he will top this year's epic creation, even as the Last Local becomes busier than ever.
"I've had to employ extra chefs just to keep up with demand since the win was announced," he said.
"We usually have two, three chefs on the line, now I've got five just to keep up with demand.
"I think next year I'm looking at South Africa, they're big meat eaters and I want to look at those flavours.
"They're no point just doing the same thing, there are so many different places, different cultures you can dig into, and I'm really excited to sit down and start researching, start reading and see what I can come up with."