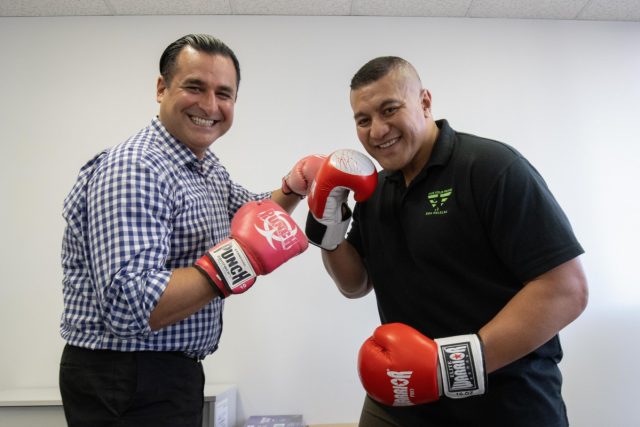 Chief executives and members of parliament from Perth will be pitted against professional athletes as part of a corporate boxing event to raise money for important organisations working in mental health and scholarships to the School of Mines WA.
On Saturday, November 13, Member for Jandakot Yaz "The Mumbai Express" Mubarakai will take part in the event in Burswood where he will face former amateur MMA fighter Tasi "The Iceman" Kalolo.
The contenders receive 12 weeks of intensive training with experienced boxers before they enter the arena, allowing them to showcase their strongest mental and physical abilities.
Soa 'The Hulk' Palelei is a former MMA fighter who is the leader of an award-winning program called Strong Minds, Strong Mines, aimed at helping with the high rates of mental health issues on mine sites and with FIFO workers broadly.
Through the assistance of Mr Mubarakai, Soa is expanding his program to include a new program, Strong Minds, Strong Schools, aimed at school age students who also often struggle with mental health issues.
Strong Mind, Strong Schools will be an eight-month program rolled out to participating WA schools, beginning with the south metro area.
The program will aim to reach students and educate them about mental health and break the stigma around it.
The program addresses many different subjects about mental health and educates students on strategies to build and maintain good mental wellbeing.
According to the Australian Institute of Health and Welfare, in 2017 one in five Australians reported they had a mental or behavioural condition and 15 to 24 year olds had the highest proportion of mental or behavioural conditions.
Listed alongside Mr Mubarakai for the boxing event is Tony "Spud King" Galati who will take on Daniel "Son" Smith and Raleigh "Kalgoorlie Street Fighter" Finlayson will take on Soa "The Hulk" Palelei on a packed schedule of ten fights.
Mr Mubarakai said that Mr Palelei has an amazing ability to reach young people on mental health issues as he been through the school of hard knocks himself.
"He has a really interesting approach to building resiliency and learning to deal with the behaviours of others," he said.
"He knows what helped him through it all and he is a great teacher of his approach to life.
"There will be an expansion of the Strong Spirit Strong Mind program for Aboriginal youth in regional areas to help prevent the early uptake of alcohol and drug use."
Mr Palelei said mental health can affect anyone without them being aware of it.
"Strong Minds Strong School wants our students to know that they don't have to deal with mental health challenges on their own. There's help, and there is support out there to help."