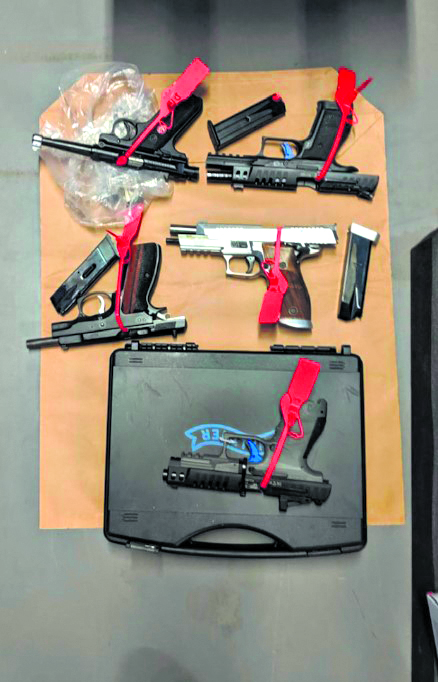 Several arrests and a significant amount of firearms have been recovered by WA detectives after a kidnapping and theft incident in Barry & Sons firearm shop in Beckenham on September 4.
On September 9, Taskforce Newstead detectives, with the assistance of several specialist units, including the Tactical Response Group, executed search warrants at residences in Seville Grove, Cloverdale, Wilson, Malaga and Midland and at a storage unit in Forrestdale.
The vehicle involved in the incident was located during a search in Manning Road, Wilson, and the firearms were recovered from a storage unit on Eddison Circuit, Forrestdale.
Deputy Commissioner Col Blanch said the officers attached to Taskforce Newstead worked tirelessly over the last week to identify those involved and recover the firearms before they could make it onto the black market.
"The recovery of the stolen firearms has been a high priority for WA Police Force," he
said.
"It was only a matter of time before the firearms would have made it onto the black market and into the hands of people who could have caused great harm to the community.
"This investigation has involved many specialist areas of WA Police Force, and that investigation was greatly assisted by the community, who provided information that helped identify the vehicle of interest and possible suspects."
Around 7pm, 81-year-old store owner Barry Lathwell from the Barry & Sons Firearms shop left work and while stationary at the intersection of Albany Highway and Austin Avenue in Beckenham his vehicle was struck from behind by a white van.
Both vehicles stopped around the corner from the crash location and at this time Mr Lathwell was kidnapped.
Mr Lathwell said the men were speaking in a foreign language to each other, handcuffed him, cable-tied his legs, blindfolded him and threw him into the van.
"We're going to kill you unless you let us into your shop," he said.
Mr Lathwell was then driven back to the store where the two men involved in the incident stole a large number of firearms and an amount of ammunition.
The men forced Mr Lathwell to open the safe and hit him on the leg with an iron rod.
Mr Lathwell had the opportunity to hit the duress alarm to alert police but the men fled the scene before police officers arrived.
Police were alerted to the incident about 8pm when a hold-up alarm was activated.
Officers attended the scene and Mr Lathwell was taken to hospital as a precaution due to his age.
He received no serious injuries and it is believed he was held against his will for approximately 40 minutes.
One of the suspects is due to appear in Perth Magistrates Court today. Anyone with information regarding this incident is asked to call Crime Stoppers on 1800 333 000.