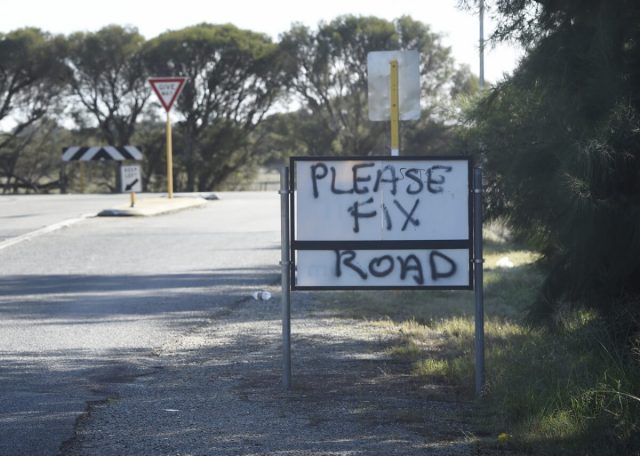 The Shire of Serpentine Jarrahdale has been accused of "airing their dirty laundry in public" and was urged to be "seen to be A-political" by a resident, following the fall-out of a community meeting earlier this month. 
Deputy Premier and Member for Kwinana Roger Cook chaired a meeting at Marri Park Tavern on July 8, after he received several concerns from members within his electorate about Thomas Road. 
The meeting, which was attended by about 60 people, heard several concerns about the speed limit along Thomas Road, the volume of heavy vehicles, lack of lighting and congestion and also included information about future planning of the road and the time frames associated with the works. 
The meeting on July 8 was not attended by anyone from the Shire of Serpentine Jarrahdale, which was made abundantly clear via a Facebook post issued the next day on the shire's page. 
The post read "Unfortunately the shire did not receive a formal notification of the meeting and subsequently was not represented at the meeting". 
Mundijong resident Lisa Brazier spoke at the ordinary council meeting this week saying the shire's Facebook post was "highly unprofessional" and "inappropriate". 
"There is no need to air your dirty laundry in public … this should have been sorted behind closed doors and if a statement was needed on the matter it should have been positive," she said. 
"In order for our shire to grow and gain funding for large infrastructure projects I respectfully request you all place your personal political interests to the side and start positively working with all sides of government for the best outcomes for the Shire of Serpentine Jarrahdale."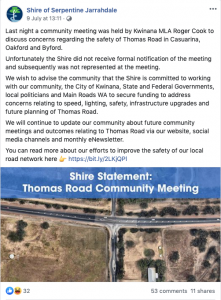 Member for Darling Range Alyssa Hayden said this issue is above politics, it's about road safety. 
"The Shire of Serpentine Jarrahdale was upset at not being invited to a community meeting that was held outside of its boundaries," she said. 
"At the same time, it has never shown interest in communicating or working with me as its local member on this issue.
"The shire shouldn't be focused on not getting an invite, it should be driven by a desire to improve the safety of its residents." 
Since the meeting, Mr Cook said he has invited both the Shire of Serpentine Jarrahdale and City of Kwinana to have a representative to be part of a working group to solve the issues moving forward.