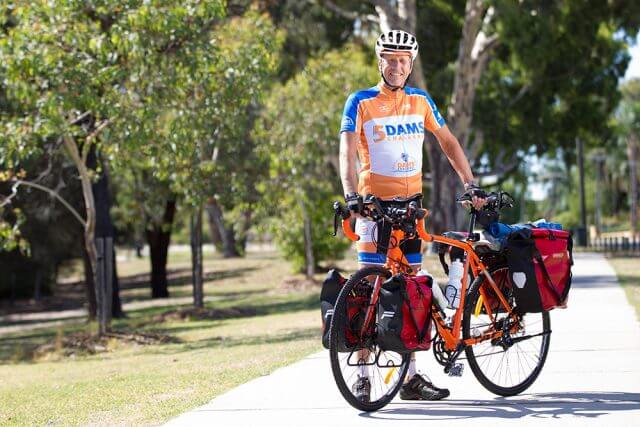 A Shelley self confessed cycling tragic will put foot to pedal across the country in the name of charity next month.
Bruce Bowman, 60, has been running in marathons and triathlons since the 1980s but in March he will fulfil his dream of riding across the country.
He will fly to Melbourne to depart from the Bourke Street Mall and ride to Perth's Hay Street Mall over two months.
He will complete the ride in the name of charity with the aim of raising $20,000 for mental health charity beyondblue.
Mr Bowman said after completing the Munda Biddi Trail, a 1000-kilometre nature based off-road bike track, in 2012 he knew he could ride across the country.
"I've been looking to do a big physical endurance effort," he said.
"When I did the Munda Biddi I thought yes I can physically and psychologically ride from Melbourne to Perth.
"The legs can cope with it, my head can cope with it, I just have to get the fatigue part sorted out, that's why I've been riding every day just to toughen up the backside."
He said he had been preparing for two years and planned to rough it.
"I'll ride six hours a day – a couple of hours then stop and then another couple of hours then stop," he said.
"In the afternoon I'll get a feed in a café then go out of town 20 kilometres and camp in the bush, most of it is going to be rough camping."
Mr Bowman said he chose beyondblue because of the prevalence of mental health issues.
"Depression hasn't been very far away from myself and my family, one of my kids suffered depression, my father did after a stroke," he said.
"I looked at depression when I was going through some job changes 10 years ago and it scared me. I never hesitated with beyondblue, I think they do a great job."
Mr Bowman will be updating a blog to track his progress. Follow the journey and donate at give.everydayhero.com/au/bruce-12.