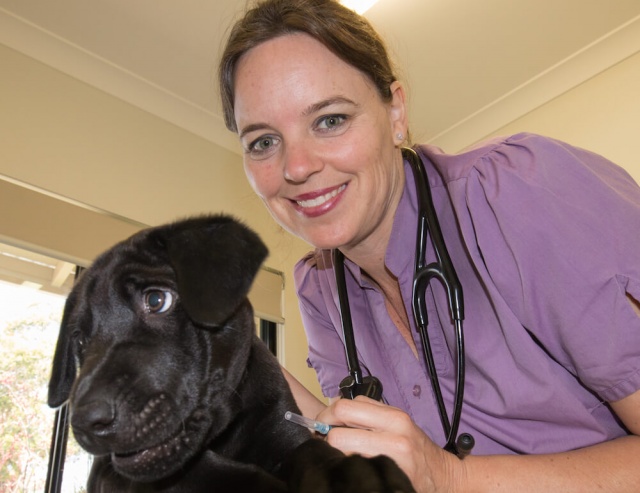 Dog owners are being urged to vaccinate their pets against the deadly parvovirus after a surge in cases in the Armadale area.
Armadale-based Foothills Animal Hospital has recorded 11 positive tests for parvovirus in the past four weeks.
Over the last three months 52 dogs have recorded positive for the disease in WA.
Parvovirus is highly contagious and is spread by oral or nasal contact with contaminated faeces in the environment or contaminated objects like soil.
Foothills veterinarian Nicole Laurence said it was a horrible disease that made dogs suffer.
"The first symptoms would be not eating, vomiting and then within one or two days they would normally start seeing blood in diarrhoea," she said.
"They are just very depressed and lethargic and they have a lot of abdominal pain.
"It's probably one of the worst viruses I see puppies and dogs suffer with."
Dr Laurence said vaccinations were the only way to combat the virus. "We've had 11 positive cases in the last four weeks," she said.
"Most of those have been puppies who haven't had their full course of vaccinations so we would recommend three vaccinations for puppies.
"We have had some adult dogs as well who have only had maybe one or two vaccinations as a puppy and then nothing since.
"We have lost some and saved some,
"We have been able to treat some of those puppies and they have survived but the treatment is very intensive, it causes severe vomiting and diarrhoea and they usually have to be on a drip for a week.
"Vaccination is the only way to prevent it."
The Australian Veterinary Association say young puppies and dogs that have never been vaccinated are susceptible to the virus with death occuring in about 80 per cent of untreated cases.
They said all puppies from six weeks of age should be vaccinated against parvovirus and other canine diseases with follow up vaccinations required.
For more information visit www.ava.com.au.