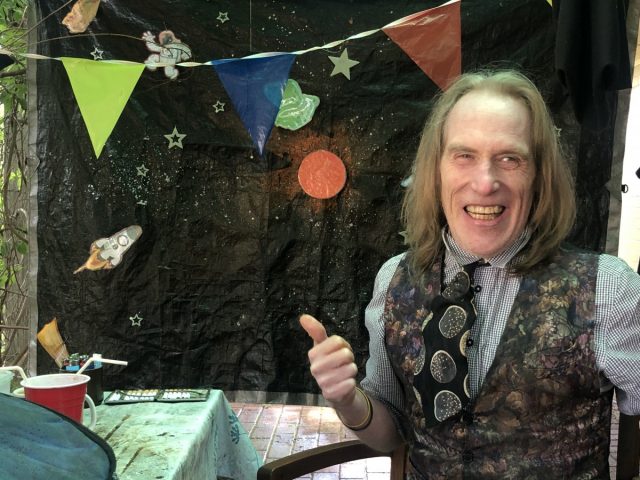 Piles and piles of paper work, meetings that last several hours with zero result and ongoing issues regarding the funding with the National Disability Insurance Scheme (NDIS) has led to one family to make the unbearable decision to relinquish the guardianship of their disabled 47-year-old adopted son. 
Andrew Dutton has lived a life with significant physical and mental disabilities, partly due to his treatment as a child, prior to being adopted by Armadale couple Barbara and Brian Dutton. 
Things went from bad to worse for Andrew when he travelled to England on a whim where he was later found on the ground outside his residence, badly assaulted with a severe brain injury that left him in a coma for three months.
Mrs Dutton said the family made the decision to adopt Andrew when he was three and a half years old, however the couple were unaware of his upbringing until 1998 when they received documents through Freedom of Information about his physical injuries sustained by a family friend. 
Mrs Dutton said they don't begrudge adopting him but if they had known all the facts they would have said they were not equipped to be his parents. 
"We would have said that 'his background is too complicated, we are just an ordinary married couple with one child'," she said. 
"We knew we wouldn't have had the capacity financially even though a lot of it was covered, there is still gaps in things. 
"That trip to England to take him home after the assault finished us, so our house went and we had to spend four years in a camper trailer waiting for our now Homeswest home." 
Fast-forward to today and Mr and Mrs Dutton are at the end of their tether with the National Disability Insurance Scheme, since the switch from the former Department of Communities Disability Services system. 
"We had hoped it was going to be a smooth transition and that they would know all about the background of our son and his previous problems but in reality they didn't," she said. 
"You have to keep going over and over it and we want to try now to live our lives everyday and not have to think 'oh we have got to go through this again'? 
"We have collectively decided that we cannot go on and do the guardianship because the amount of work that we are expected to do is just beyond us at age 84 and 75. 
"We talked about it for quite some time and I think we have felt since the beginning of the year the NDIS didn't bode well with us at all." 
Despite numerous meetings with NDIS representatives, Andrew and the two other disabled people living at the group home in Kelmscott are still without staff for a night shift, which they previously had prior to 2017 under the former system, Disability Services. 
NDIS will now complete a 30-day assessment to decide whether the night shift is needed for the three occupants of the home.