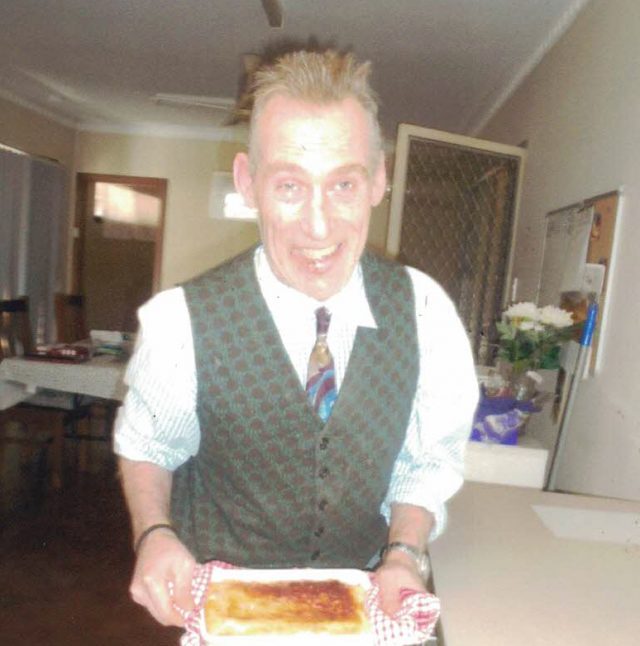 A series of unfortunate circumstances in his 47 years has led Andrew Dutton to live a life with significant physical and mental disabilities, as well as brain damage. 
Barbara and Brian Dutton adopted Andrew in 1975 and although he was a bright, bubbly child, his upbringing was challenging. 
Through Freedom of Information in 1998, Mr and Mrs Dutton received some sad news of an assault he suffered as a three-year-old child prior to his adoption. 
Andrew finished school when he was 16 years old and obtained a job in northern Western Australia when he suddenly made a decision to start a new life in England. 
Mrs Dutton said he had little money, few suitable clothes and was very naïve and as parents they had no idea of his plans but they did say goodbye to him an hour before he flew out. About two years later his parents received a call from a London Hospital saying Andrew had been badly assaulted and was expected to remain in a coma for the next three months. 
"His life was in the balance," Mrs Dutton said. 
"He was found on the ground outside where he was living but he didn't seem to have any broken bones, however his outlook was grim due to a massive brain injury. 
"We don't know where he had been or who he had been with, but we were told there were another three similar assault cases at a similar time, all of which have never been solved." 
Mr and Mrs Dutton flew to England to be by his bedside and eventually flew him home thanks to a crowd funding campaign that paid for their airfares. 
Once home and after significant rehabilitation, Andrew was ready to move into a rental home with support from staff and his family.
"We applied for 76 places of care and one said they could cater for his needs and he has been in the group home with other intellectually and physically disabled people for the past 16 years," she said. 
However the family's battles are far from over, thanks to recent changes in Andrew's National Disability Insurance Scheme (NDIS) plan. 
Mrs Dutton said Andrew and the two other residents at his group home need 24- hour supervision to help with showering, dressing, household chores, doctors, dentist and hospital appointments, medication, behaviour management programs, food preparation and activities. 
But under the new plan, this care has been reduced by two hours each day and they have also lost a sleep shift, which was previously provided before NDIS came into affect.
"Whoever is working is looking after three people and if they go to the doctor or the shops with one, then you have got two people left at home," she said. 
"The staff just have to get a scoot on with their chores and they are running on the job. 
"They are still expected to do the same amount of work in less time." 
A NDIS spokesperson said Andrew's NDIS plan includes significant funding for his disability-related supports. 
"The NDIS is committed to ensuring participants have a suitable and safe home environment and is continuing to work with Mr Dutton and his family to ensure he receives the support he needs, noting the complexities," they said. 
"If a participant thinks a decision made by the NDIA about them is wrong, they are encouraged to contact their local office or local area coordinator to discuss their concerns."