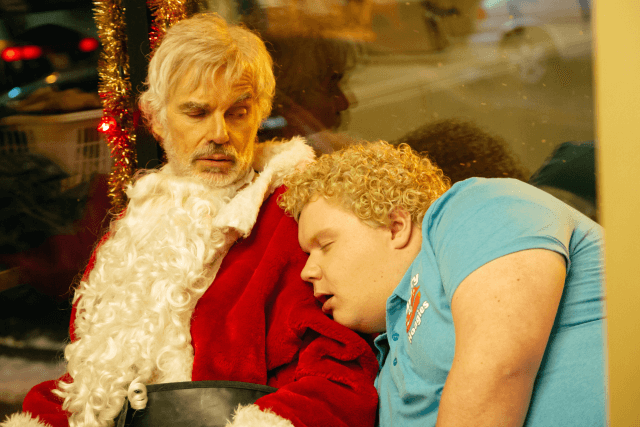 When Bad Santa hit cinemas in 2003 it left audiences rolling with laughter at the hilarious and irreverent antics conman Billy Bob Thornton got up to working as Santa Clause to rob a department store.
More than ten years later the sequel unfortunately did not live up to its expectations with most of the funny parts meshed together in the trailer but there are some moments making it worth watching.
Bad Santa 2 reunites Billy Bob Thornton as Willie with Tony Cox as Marcus; both of them older and wiser to know the sequel could not recapture the magic of the first movie, but nonetheless try and if the script had been paced better would have succeeded.
This time around Willie's mother Sunny played by the brilliant Kathy Bates joins the team of bad mouthed con men to steal a Chicago charity headed by Christina Hendricks, the goody two-shoes red head with a naughty side.
The one redeeming feature of the movie is Brett Kelly who reprises his role as The Kid, but in the sequel he is referred to by his name Thurman Merman.
Not only does his naivety make him the butt of all jokes, which offers audiences much needed laughs, but he brings out the softer side of Billy Bob, which is great to see, and hilarious, especially when he fills his Christmas stocking with Band-Aids and alcohol.
If you've got nothing else to do and feel like a bit of a laugh then Bad Santa 2 will do the trick. It's nothing like the first one but it's worth seeing on a lazy afternoon and helps you get into the Christmas spirit.
Distributor: Madman Entertainment
Rating: M
3 out of 5 stars
In cinemas now.
*WIN TICKETS*
For a chance to win one of five double passes to see Bad Santa 2 tell us in 25 words or less a funny Christmas incident that you have experienced.
Email competition@examinernewspapers.com.au or write to 1 Gilwell Avenue, Kelmscott 6111.
The competition closes November 30.