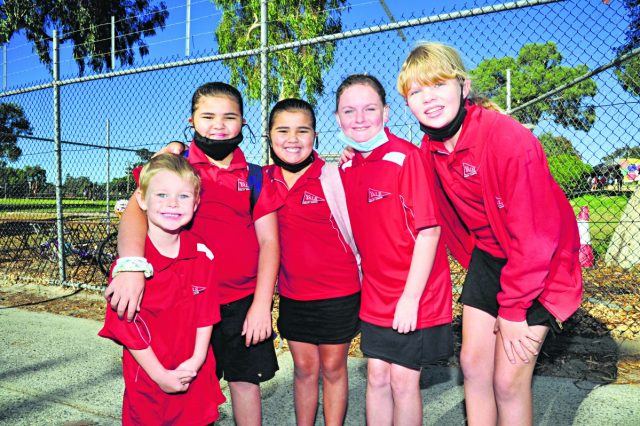 Yale Primary School students were all smiles on Monday morning, as they returned to the school for the first time since a devastating arson attack forced the closure of the school on March 9.
In more troubling news, two boys, just 14-years-old, have been charged over the inferno.
Students awoke on March 10 to find the school closed following an arson attack that had completely destroyed the school's computer room.
Determined not to interrupt their schooling, Yale students were quickly reaccommodated at Thornlie Primary School, South Thornlie Primary School and Thornlie High School.
On Monday, three-and-a-half weeks after they were forced to leave, students made a remarkable return with earlier estimates predicting a six-week period of exclusion.
Acting principal acting principal Caroline Churchill said there was no place like home.
"We were so pleased to return to Yale Primary School this week," she said.
"While we are very grateful for our host schools who so were friendly and supportive, there really is no place like home.
"I visited each class and spoke with students at recess and lunch.
"The students were amazingly resilient and super excited to be back in their classrooms.
"Thank you to our amazing staff, students and school community who rallied together to support us. It was wonderful to see the strength and unity on display. I am proud to work at this incredible school.
"Thank you to our neighbouring schools and staff from The Department of Education who have supported us during this time."
On Tuesday, Arson Squad detectives charged two 14-year-old boys over the blaze that caused $500,000 in damage and closed the school for three-and-a-half weeks.
Police allege the boys broke in to the school before lighting fires in a garden bed and in the computer room.
The boys were charged with criminal damage by fire and aggravated burglary, with one set to appear in Armadale Children's Court on April 11 while the other will appear in Perth Children's Court on the same date.