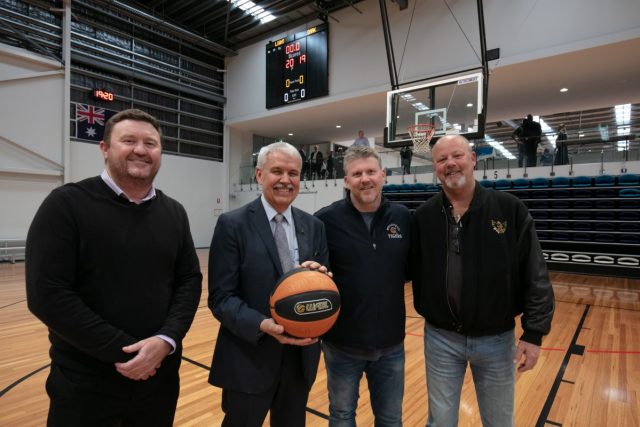 Thousands of local people gathered last week to welcome the completion of the Willetton Basketball Stadium expansion.
For more than 17 years, the Willetton Basketball Association has been working hard to get a four-court expansion to its existing stadium facilities, which was built in 1985.
The existing four-court stadium had been stretched beyond capacity for years and more than one hundred children were on a waiting list to play basketball but that's not the case anymore.
Member for Tangney Ben Morton joined thousands of local families earlier last week to welcome the completion of the stadium expansion.
"I am so pleased that in 2017, with the support our community, I was able to secure $5.5 million in federal funding, 50 per cent of the cost of this important project," he said.
"The Willetton Basketball Stadium Expansion has not only doubled the number of basketball courts to eight indoor courts, but also has new facilities for other sports, new community meeting rooms and space for first aid treatment."
The expansion project cost a total of $10.5 million, which includes $5.5 million from the federal government, $1.5 million from the state government, $2.2 million from the City of Canning and $1.3 million from the Willetton Basketball Association, with the assistance of a City of Canning loan facility.
The Prime Minister Scott Morrison personally thanked all the contributors towards the expansion project through a video last week.
Chief executive officer Mark Whinnett said there was a general sense of pride in welcoming so many people from the association's past and present history to the grand opening on August 18.
"We were very pleased with the grand opening event and see it as a defining moment in the history of Willetton Basketball Association," he said.
"It certainly means a lot to many people from within WBA to see this long awaited project finally come to fruition and become a reality, to the Willetton basketball community and sporting community in general it provides them with a wonderful and modern multi-sports stadium for which they can enjoy utilising for many years to come and will be of great benefit to our local community in many ways.
"Having been a dream so long in the making, we would like to say thank you to all for their faith, support, patience and co-operation during the building process.
"The congratulatory message from the Prime Minister was the icing on the cake so to speak and an exciting moment for all in attendance at the grand opening."
The SBL teams had the honour of playing their first game of the revise SBL format for 2020 (West Coast Classic) vs Lakeside on the new show court on July 24.