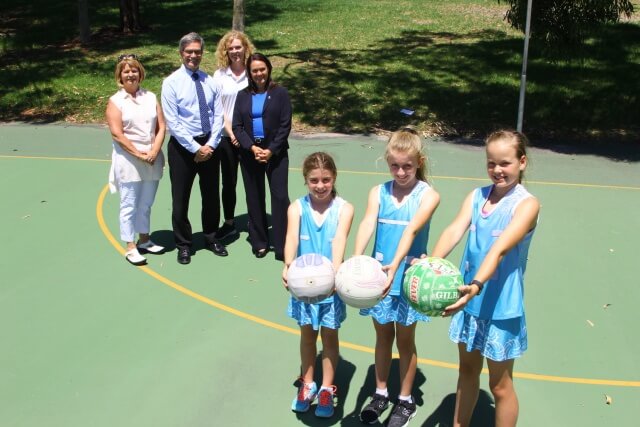 Rossmoyne Netball Club has welcomed a $120,000 funding commitment from the Liberal Party to help them build long overdue toilet and storage facilities.
Deputy Premier Liza Harvey and Member for Riverton Mike Nahan made the announcement on Friday and said if re-elected in March the party would give the City of Canning the money to get the project underway.
Dr Nahan said currently players had to cross an oval to use the nearby football club's toilet facilities.
He said the money would be used with the club's fundraised money to build a new toilet, storeroom and meeting room facility.
"This is the pleasurable part of being a treasurer and local member," he said.
Immediate past president Lana Glogowski said the club had been pushing for a facility for some time.
"For our little girls we actually have to send a parent over with them because those toilets are public," she said.
"That's a huge imposition for us.
"The other big issue for us is we've got no storage.
"We've got over 350 players this season, over 30 teams, 30 coaches and we have to provide each of those coaches with a bag, sets of balls, bibs, cones, all the materials you need to coach.
"Of course we don't have anywhere to leave it on site."
On the same day Dr Nahan and Ms Harvey announced $75,000 for the Corinthian Park Tennis Club if re-elected.
About $50,000 would go to the upgrade of the club's kitchen and bar facilities as well as a further $25,000 contribution to upgrade lighting for the courts.
Dr Nahan said the tennis club had been a central part of the community for decades, with many families having several generations going through the club's doors.
"It's important that the club's facilities are updated and can serve current and future members, which is why I am delighted to announce that a re-elected Liberal Government will help the club refurbish its kitchen and bar facilities, fix fencing and update its lighting," he said.
For more state election stories and candidate profiles click here.