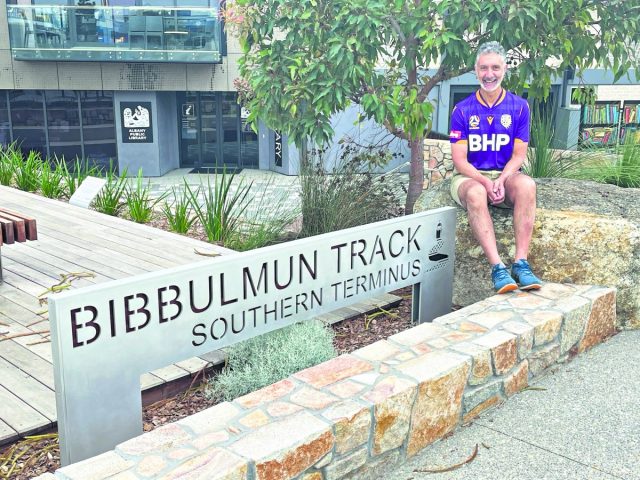 Member for Armadale Dr Tony Buti is putting his passion for fitness to the test, embarking on an end-to-end hike of the Bibbulmun Track on Monday and raising money for Alzheimer's WA on the way.
Announcing his intentions earlier this year, Dr Buti, who's ministerial portfolios include Aboriginal Affairs, Racing and Gaming and Citizenship and Multicultural Interests, said he has always wanted to walk the historic trail.
"I've always wanted to do it in one go, but obviously in my job it's very hard to get a long period of time," Dr Buti said.
"I went to a conference in Albany last year and they were talking about how trail hiking had become really popular, and I said I think it would be appropriate for me to do the Bibbulmun track.
"The driver for me is that this is one of the best tracks in the world and the only way I can see a lot of that landscape is by doing this.
"I've been wanting to do it for years and after that conference I thought, yeah I'll do it."
The Bibbulmun Track, named in 1979 in recognition of the early indigenous inhabitants of the southwest, runs some 1000km from Kalamunda to Albany and attracts hikers from across the world, who can attempt to walk the full course, or opt to walk an individual section.
Having begun his professional career as a Physical Education teacher, Dr Buti has been preparing for his exhaustive hike with regular training in an attempt to tackle the trail in under 18 days with no rest days in between.
"If I had done it two years ago, I would be a lot more relaxed about it, I'm a bit older now. I run a lot but it's just the day-in-day-out," Dr Buti said.
"I've been running for the last 35 years, and for the last 15 seriously, I've done a few marathons.
"To continue to run on a daily basis requires discipline, and it's also very good for your mental health, you just feel better.
"The adventure is going to be as much of a mental challenge as it is a physical challenge.
"I know there will be times when it will become very challenging, but hopefully I get through it."
It isn't the first time the state politician has used his passion for exercise as a means for a good cause.
In 2016, alongside then-Minister for Health, Roger Cook, Dr Buti organised the Ride Against Domestic Violence, traversing 300km from Busselton to Victoria Park to raise funds for women's refuges.
This time, by way of a My Cause page, Dr Buti is using his hike to raise money for Alzheimer's WA.
"Over the years, it's unfortunately a regular occurrence to come across a family who suffers from Alzheimer's, it's common for people to have experienced it, themselves or their families," Dr Buti said.
"Alzheimer's is a good cause and I really encourage people to donate."
In a post on the My Cause fundraising page, Alzheimer's WA chairman Warren Harding wished Dr Buti well on his trek.
"On behalf of our Board, our CEO Ella Dachs and all the people with dementia, their friends and carers whom we serve thank you for making a difference," the post read.
"We know we all want to age with dignity, in place in our community and not in acute hospital care nor high care nursing homes."
Dr Buti began his hike on Monday afternoon and expects to arrive in Albany on July 21.
To donate to Dr Buti's cause, visit mycause.com.au and search for 'Buti'.