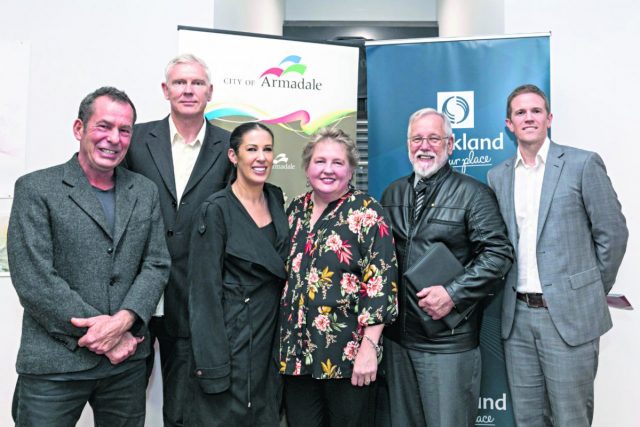 Catherine Wiley has taken out the Local Artists' Award at this year's Minnawarra Art Awards for her striking and deeply personal work Art Vs Depression.
The work, a portrait of fellow artist and community activist Gavin "Gracey" Grace, was credited by the award judges, with the arresting gaze of the subject and the empathy involved capturing both their and audiences' imaginations.
"It was so good to be recognized for creating something that was so important to me as a symbol of the community," Ms Wiley said.
"I met Gracey a little while ago, and was just instantly blown away by him.
"He's such an honest, up front person who wears his heart on his sleeve and is just trying to help everyone out every minute of every day.
"He's a really inspiring subject for a painting.
"He has that raw energy, and there's so much character in his eyes first of all – that was my focal point for the work."
Canadian-born Perth artist Eva Fernandez took out the Gerry Gauntlett Award for A Rare Bird in the Lands, with the Stockland Sculpture Award going to Paul Kaptein, an award-winning artist who often exhibits in New York, for Mute Figure #6 (Fading Out Even As It Focuses).
Exhibition Curator Ron Nyisztor said the work submitted for this year's exhibition was of a very high calibre, and it was a difficult decision for the judges to make.
"This exhibition is definitely one you don't want to miss, with pieces across various mediums of paint, photography and sculpture, all showcased locally at the Greendale Centre, as part of the magnificent Armadale Arts Festival," he said.
"Local artist Catherine Wiley was awarded for her poignant piece on depression, an important social matter for our community, with the judges commenting that it was strong and forthright, yet empathetic."
Ms Wiley said she was immensely proud of being recognized, but the success would not go to her head.
"This isn't a job for me. I still have my full-time job, and that I keep separated by the painting," she said.
"It's my hobby, and I never want my hobby to become something I end up worrying about every day.
"I think the way I see painting now – a release, a chance to do something like tell Gracey's story – means I've always got inspiration, and I would not want to sacrifice that."
The Minnawarra Art Exhibition contkinues at the Greenwood Centre, 12 Coombe Avenue Armadale until May 27.