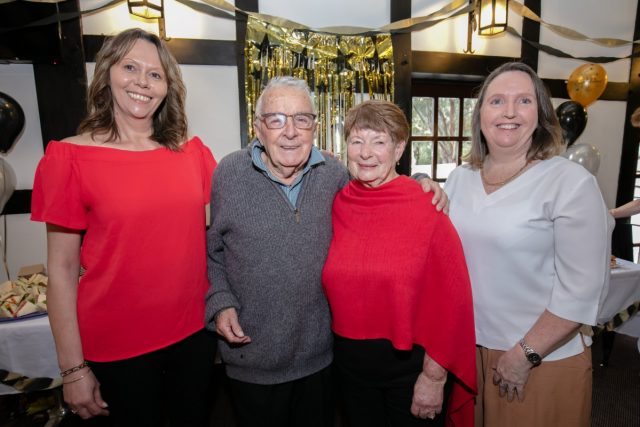 Community sporting icon Laurie Blackburn has been recognised for his contributions to the Armadale sporting community through a special event held by the South Suburban Badminton Association.
The event was held at the Last Drop Elizabethan on May 29 and celebrated Mr Blackburn's long lasting commitment to the club and his involvement in the development of the club.
Mr Blackburn has lived in Armadale his whole life and growing up he was always into sport and eventually started playing badminton in the Armadale Town Hall, where he met his wife Ann.
At that time, badminton was played only six months of the year from October through to Easter and when his club went to rebook the hall the following October they had been beaten to it by another club, so found they needed to find a hall for themselves.
On a train trip back from a state competition, there was a discussion about the facilities they were competing in being advanced and their training hall not being up to par so the idea of a new hall was created.
A hall at Wembley was built and the state team came second by eight points, proving that practising in a state competition standard hall improved their performance.
However it was a trip for the Armadale players, so a decision was made to try and build a hall in Armadale.
Land on Townley Street was leased for 25 years from Armadale council on a self- supporting loan of $75,000, all of which was repaid in full to council.
The hall, which was of international standard at the time, was officially opened in 1978 at an initial cost of $120,000.
There was a total of eight clubs (220 members) and over the years many players represented WA in state competitions.
Mr Blackburn ran many weekend competitions and helped raise funds for the club and other charity organisations.
He was on the first committee and stayed on over the next 42 years and is still a member of the present board.
In 1995 funding from government grants and a self- supporting loan from local council was obtained and a sprung wooden floor was installed in place of the bitumen that players had been playing on.
Over the last 42 years Mr Blackburn has maintained the hall, run junior programs, coached juniors, ran three nightly clubs, ran weekend tournaments, answered calls seven days a week, booked courts and collected payments.