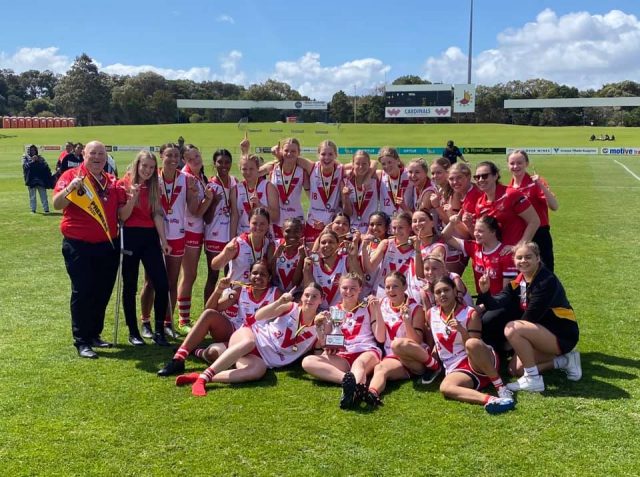 Eight talented young football stars from Perth's south-east have helped the South Fremantle women's AFL youth team to secure the Rogers Cup Premiership for 2020.
The side secured a 42-point win over Peel Thunder after making a few moves and scoring four goals in the final quarter.
Coach Adrian Ivancich said it was a tough contest, but that the players put in an amazing effort – as they had all season.
The COVID-19 pandemic brought the pre-season to a grinding halt and by the time it recommenced, the side had just three weeks to get ready.
"A lot of girls had decided they weren't going to bother with footy, so when we got the go ahead, I had to go around the local clubs recruiting," Ivancich said.
Of the 35 players, 15 were debutants – and though he admits the side was probably lacking in experience, Ivancich said he was inspired by the talent the players demonstrated and their dedication to learning the ropes.
"The experience was probably lacking, but there were some really talented girls and they were really willing to give it their best," he said.
"As a coach, I'm there to develop the young talent at the club – and they made that a real joy for me.
"I just encouraged the girls to have fun and enjoy themselves – it isn't all about results.
"That was the message throughout the season and it's just amazing to see what they've achieved.
"It's been a challenging year, but we're premiers and we're smiling."
"It's very fulfilling and rewarding."
Training and weekly games required a huge commitment for the players on the outskirts of South Fremantle's large catchment area, with Keira Clements, Poppy Stockwell, Emily Boothman, Holly Denholm, Taylah Cruttenden, Jessica Sparkman, Hayley Kennewell and Sinead Del Borrello travelling from Roleystone, Byford, Serpentine-Jarrahdale and Armadale.
But it was that commitment that garnered the respect of Ivancich.
"We have a number of players and their families that travel a long distance several times a week to get them to training and their games," he said.
"It's a real commitment.
"It's just an amazing effort they've put in – during pre-season, training can be three nights a week.
"There is some real talent out that way, too."
The club extended thanks to the players and their families for their commitment during the season and for making it a memorable year for the side.