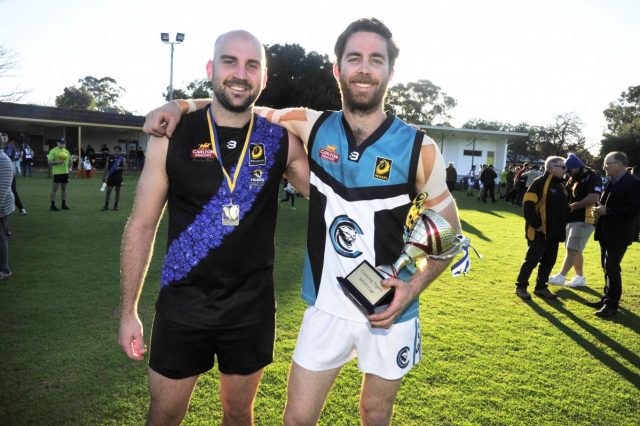 The Canning South Perth Football Club has a strong bond with people suffering from Motor Neurone Disease (MND) and will do it all over again this year with the MND Cup to raise funds and spread awareness for the MND Drive.
The MND cup was first launched in 2016 and on August 10 the club had the second leg of the MND Cup against Canning Vale Senior Football Club.
Canning South Perth club president Michel Jabbour said the club is looking forward to holding the MND cup every season, as it is their way to con- tribute back to the community.
"Our past president Jeff Poultney lost his father to MND in 2015," he said.
"There have also been other cases of people with links to the club losing people to MND so it is a cause close to our hearts."
The players marked the event by wearing custom made jumpers incorporating the blue cornflower, which is the national symbol for hope for MND Australia.
Mr Jabbour said they chose this design as it represented its fragile appearance and hardy nature.
"Like the cornflower, people living with MND show remarkable strength in coping with a devastating disease," he said.
The league coach and past club president Jeff Poutney had both been involved in other MND fundraising events outside of the club but thought it would be a great initiative to create an event between community foot- ball clubs to raise money and awareness for MND.
Even though the club didn't win the cup this time, they won people's hearts with the fundraiser as they raised a little over $6000 after the functions but are hoping to raise more than this during the upcoming com- petition.
The annual drive for MND is a three-day driving journey through different regions of Western Australia where participants drive decorated vehicles along the way to raise money for MND.
The 2018 drive consisted of over 30 cars and the total raised was over $280,000.
The Care Cure Support event Drive for MND 2019 runs from Friday October 25 to 27 and there is still time to get involved.
To donate go to the Care Cure Support page or contact the Canning South Perth Football Club for more information.