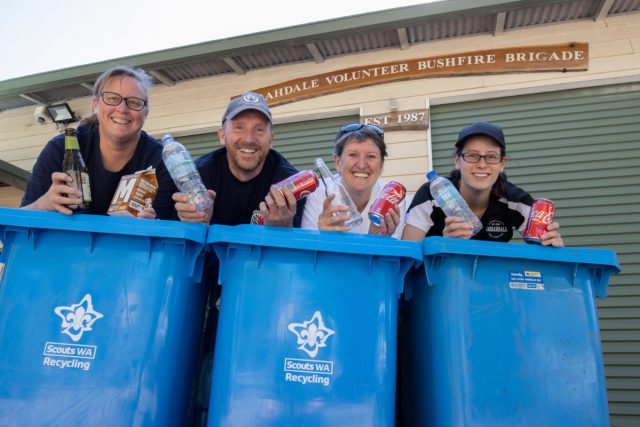 Jarrahdale community collective has taken the initiative and provided blue bins across the community as part of the containers for change collection scheme.
When the containers for change scheme was first announced, Jan and Christopher Booth saw the scheme as an opportunity to give back.
"As a member of Jarrahdale Community Collective and a Volunteer Firefighter at the Jarrahdale Bushfire Brigade, we saw this as an opportunity to raise funds for our community."
When the scheme began, they provided the public with Jarrahdale Community Collective's collection code.
This allowed people to donate money made from containers directly to helping the community.
Ms Booth spoke to members of the community who said that the number of containers their households generated was not worth running to the distribution points.
"We explored the option of providing a collection point in town.
"We discovered the Manjedal Scouts were providing a refund service. We approached them and asked them for a blue bin," she said.
Ms Booth said this was placed at the end of their drive and by the end of the month, the bin was full and the need for more bins was apparent.
Additional bins were placed around town in various areas including the fire station, Marginata Parade, Staff Street and Jarrahdale Playgroup.
"We were then approached by Millbrook winery, which asked if they could have some bins too, with proceeds going back into the community.
"Millbrook currently have four bins they fill on a regular basis."
When Jarrahdale Primary School reopens, an additional two bins will be placed there.
This will bring the total bins around Jarrahdale to 15.
Ms Booth says it's a brilliant way for residents to give back to the community.