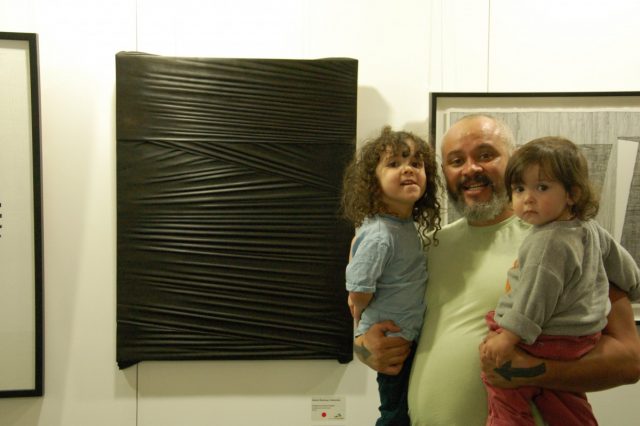 Artist Abdul-Rahman Abdullah was recognised for his work receiving the City of Armadale Award during the Minnawarra Art Awards.
Mr Abdullah is an Australian artist who resides in Mundijong with a family of five on a farm and property.
The piece entitled 'Closed but never locked' was created during the 2020 COVID-19 pandemic, during a time when Western Australia was in lockdown.
"Each one of the works I've done were snippets of my life during that time where we shut down and closed but hadn't completely ceased," he said.
"Closed but never locked was a direct reference to my house which is on a farm and we can't lock it, it's closed but never really locked."
The art piece was made of carved wood with a deep black overlay of paint.
"The awards are a good way of situating your work amongst other artists and your peers," he said.
"I never expected to win, anyone who's a finalist has the chance to win and normally what you want to do is to just become a finalist and have your work displayed amongst these other artists you want to be associated with."
"Actually winning one was an absolute bonus."
The prize worth $12,000, was an acquisition award, so the City of Armadale acquires the piece Mr Abdullah made.
Mr Abdullah aims to articulate physical dialogues between the natural world, identity and the nature of culture which he often does using natural materials.
Wood is his specialty and he often carves pieces and creates art that represents the balance between the natural world and crafted objects.
'Closed but never locked' was created as part of a two-piece display, which was originally created for an art display in Sydney in conjunction with Mr Abdullah's brother Abdul.
Mr Abdullah is currently working on a project with his brother called Peripheries that will be displayed at gallery space Moore Contemporary in August.
'Closed but never locked' is currently on display at the District Hall in Armadale until Sunday May 16 amongst the other works by Art Award finalists.