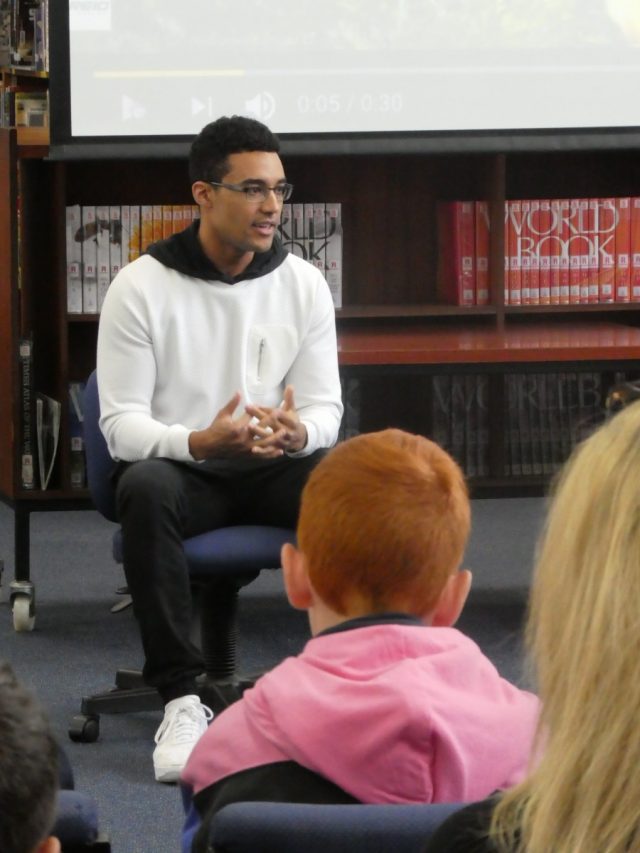 Former Lynwood Senior High School student Devon Terrell is portraying King Arthur in the series 'Cursed' which is currently playing on Netflix.
The class of 2009 student last visited the local school in 2016, after he finished filming Barry – an American drama film directed by Vikram Gandhi about Barak Obama's life at Columbia University in 1981.
This year Mr Terrell took a role in the British-American fantasy drama series – a re-telling of the Arthurian legend, where teenage sorceress Nimue joins forces with a young and charming mercenary named Arthur.
Drama teacher, Mr Tim Walker, said Mr Terrell was well remembered at Lynwood.
"He was well liked and respected by the staff who taught him and by his peers," he said.
"He was indeed always interested in drama, choosing it as a lower school option subject, followed by year 11 and 12 TEE drama courses."
Mr Walker said his drama career at Lynwood culminated in his participation in the performance of Hoods by West Australian playwright Angela Betzien.
He also played the role of Kyle, 11, who, with his sister Jessie, 9, is left in a car with their 11-month-old brother, Troy, while their mother is in the shopping centre.
"Devon won the Year 12 Best Actor Award for his performance, a foreshadowing of things to come," Mr Walker said.
"While he was back in Western Australia three or four years ago, he spent a day at Lynwood, meeting with students and staff in a delightfully informal series of discussions about his career since leaving the school – his attending WAAPA and NIDA, moving to America, his landing the role of Obama – one of his personal heroes."
It is understood a number of staff have already seen Cursed on Netflix, including Mr Walker.
"We all agree that Devon is brilliant as the young King Arthur, alongside Katherine Langford, another West Australian actor, as Nimue, The Lady Of The Lake," he said.
"We all hope for Cursed season two to happen.
"For me, to have taught Devon, to have had a hand in encouraging and developing his interest in, and remarkable talent for acting, is immensely satisfying.
"I don't mean that in a smug, self-satisfied way, more a sense of gratitude for having had the opportunity to work with students like Devon."