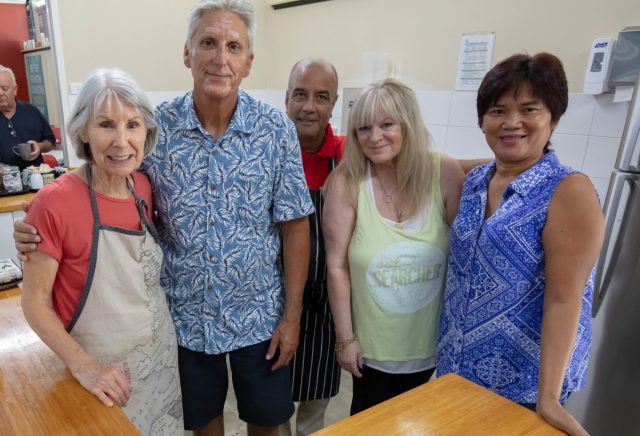 When it comes to helping and feeding more than 100 people every week, there is one Gosnells resident to call.
Kevin Christiansen has been involved with Real Life Church since 2006 and three years ago he was put in charge of community work and homelessness help in the community.
Every Wednesday and Thursday morning from 9.30am to 12pm more than 100 people from various beliefs and backgrounds come through the doors of the organisation in the hope of finding a safe place to engage with others and feel welcomed.
Members and volunteers from the community gather each week to produce 30 to 60 food packs for people who are doing it tough on the street.
The food packs on Wednesday include only fresh food products and the Thursday packs include long-life products such as milk, cereal, pasta and rice.
Mr Christiansen is also completing a Bachelor of Ministry whilst helping out every week. He has also helped with programs such as counselling, showering and haircuts on Fridays as well as weekly English lessons.
"You have to help people naturally, you've got to help them physically," he said.
"There are a lot of people with problems in the community and we want to impact the community.
"We don't see the community as a bad place, we see Gosnells as a place with good people living here and some made bad choices but we want to help them get back on their feet and give them a sense of identity."
However Mr Christiansen also said he thinks there is a big issue in the city when it comes to homelessness.
"It's not the time anymore to have meetings, it's not the time to set up a plan, it's not the time to have a conference about an issue, the time now is to actually do something," he said.
"It's a reality we need to embrace, this is not about pushing things under the bench this time."
Mr Christiansen said he was disappointed to see the local council removed all the park benches on the main streets a while ago.
"We are not being proactive, that is a negative response and sometimes it can be an issue that looks too much of a problem that can't be fixed… but if you just do what you can, you would be surprised with how much you can achieve," he said.
Anyone in need or wanting to volunteer is welcome to call Mr Christiansen on 9398 7170.