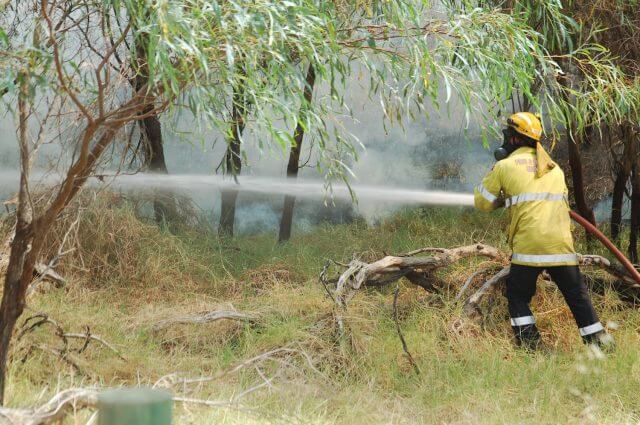 Armadale detectives have charged a 23 year old Kelmscott man after he allegedly impersonated a firefighter while other firefighters were responding to the Hopeland fire on Friday.
Sometime between 5pm and 5.30pm on January 8 firefighters were responding to the fire in the vicinity of Karnup Road and Yangedi Road in Hopeland, believed to have been started by lightning.
Attending firefighters saw a man wearing a firefighter uniform.
The senior firefighter on site, who was not aware of any other emergency services personnel being deployed to the scene, approached the man and asked him to identify himself.
The man claimed to be a volunteer firefighter, before leaving the scene in a nonemergency services vehicle, which had a dash-mounted emergency beacon.
Police officers attending the fire were provided with the information and started an investigation.
As part of the ongoing investigation detectives searched a Kelmscott house on January 9.
A number of items of interest were seized including an emergency services radio and a portable emergency beacon.
The Kelmscott man was charged with stealing the emergency services radio and will appear in the Armadale magistrates court on January 28.
The investigation, jointly managed by police and the Department of Fire and Emergency Services was ongoing.
Firefighters were under pressure on Friday afternoon following an electrical storm that was believed to have sparked several blazes across the south east including in Seville Grove, Forrestdale and Karragullen.