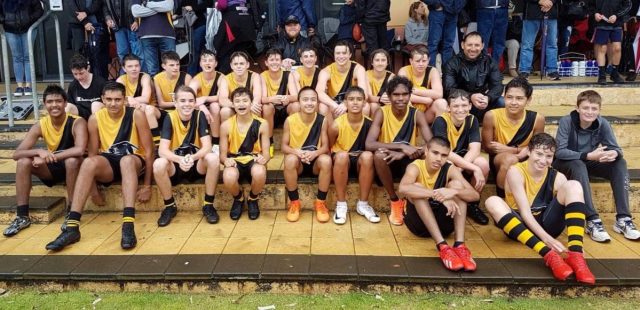 The Lynwood Ferndale Junior Football Club (LFJFC) Year nine's will make it to the grand final after a very wet and windy day against the minor Premiers Forrestfield in Noranda last weekend.
It was an even contest up until half time with both teams trying everything they could to score in the horrible conditions.
With the smaller players making the most of the slippery muddy grounds, the year nine's kicked away in the third quarter to take a three goal lead and increased this in the final to win the game by 46 points.
Final scores were LFJFC 11.17 (83) to Forrestfield 6.1 (37).
Best players on the field were captain Sam Hunt, a hard in and under player, putting his body on the line to win the ball.
Jamie Barrett played another brilliant game on the ball and curtailing Forrestfield attack time.
Special mentions to Hunter Smith who got off the half back with dash, Ashton Bank leading forward and holding marks and kicking three goals and Terrance Munro's dash through the middle and great skills which lead to numerous scores.
LFJFC captain Sam Hunt said making it to the final meant a lot to the team after having a tough start to the season.
"After a challenging start to the season, we managed to turn it around and thanks to some new recruits and the support of our coaches we have made it to the grand final," he said.
"We are all excited to just get out and play."
Senior Coach Warren Bank had zero expectations about the grand final because he wanted the juniors to focus entirely on beating Forrestfield first.
"The boys are all having varying feelings, excited, anxious, nervous, unfazed as they are only 14-15-year- old boys," he said
"The range of emotions changes day by day and as the grand final game gets closer I'm sure we will see more."
The LFJC Year 9's team will be playing against Thornlie Gold on September 15, at Ellenbrook District Open at 12:30pm.