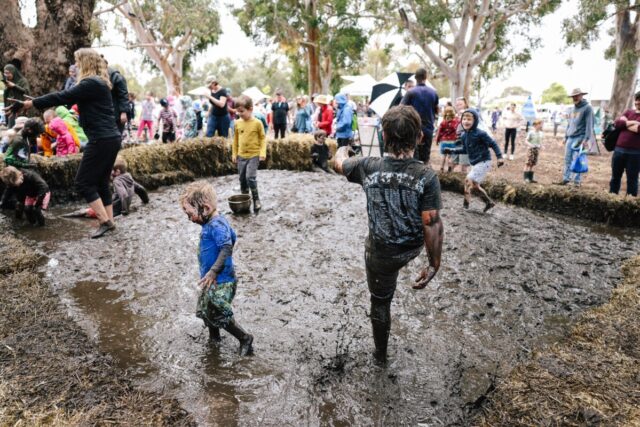 Kids and families can get muddy at this year's annual Canning Council Muddy Hands Festival on Saturday November 18, from 10am – 3pm.
Held at Kent St Weir in Wilson, Muddy Hands is a free, non-ticketed event, that encourages kids of all ages to unplug, get muddy, be active and enjoy nature.
This year's festival will be bigger and better with more mud and mud related activities including the mudster chef kitchens, mudpits and the mighty mudslide.
As getting muddy isn't for everyone, attendees can also create nature crafts, participate in sports pop-ups and enjoy other mud-free hands-on activities.
On the main stage there will be performances from Captain Cleanup, the Eco Faeries, West OzWildlife, Rock'n'Toddle and more.
Deputy mayor Amanda Spencer-Teo said this is one of her favourite events and was excited to see the Muddy Hands festival back bigger than ever and encourages families to head along.
"The Muddy Hands Festival provides kids and families with the opportunity to bring unstructured play into their everyday lives," she said.
"In partnership with Nature Play WA we aim to engage children's curiosity, letting them choose their own path with immersive experiences, and gain a greater understanding local flora, fauna and the natural environment – all while having fun.
"With a fantastic attendance of around 2300 people last year, we hope to see more of the community this year's event."
This smoke-free event will feature reusable serve-ware and community members are encouraged to bring their reusable drink bottles and coffee cup as the event is low waste.
Attendees can also bring a rug and picnic food, or there will be food trucks, along with Canning River Café offering food and refreshments to buy.
There will be limited free onsite parking and people are encouraged to carpool or take public transport.
For more information on the Muddy Hands Festival, visit canning.wa.gov.au/muddyhandsfest or follow the City of Canning's Facebook page for regular updates.