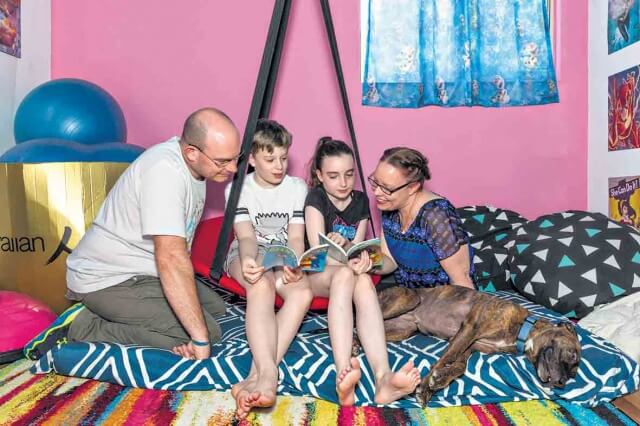 A new online program is now available for West Australians to obtain a Graduate Certificate in Education (Autism) by Torrens University to cater for an increasing prevalence of autism in children.
It also comes after increasing high demand from employers for educators to have specialist knowledge and skills to support children with autism.
Federal government data from Autism Aspergers Advocacy Australia shows the number of children with autism rose 9.4 per cent to 78,951 in the year to June 30 but now there is an opportunity for educators to develop nationally recognised knowledge, analyse issues and challenges and recommend changes to classroom approaches as well as school policy.
Maddington mother-of-two Rhona Bolger has two children aged 11 and 10 who are both diagnosed autistic – Alyssa has autism, epilepsy and ADHD while her brother Lachlan has high functioning autism.
Both are home schooled by Ms Bolger and her husband Clay, but Alyssa also attends a primary school part time.
Ms Bolger said the news of a new online university-led graduate certificate was a step in the right direction when it came to assisting families and the wider community.
"The course focuses on assisting educators to understand the autistic students' perspective and this is so incredibly crucial to being able to provide an effective education for autistic students," she said.
"In my opinion one of the issues we've faced within the schooling years is educators placing neurotypical expectations on our autistic children.
"I'm really hoping this course will offer educators an insight into the challenges faced by our autistic children within the classroom and provide effective strategies to assist students to reach their full potential."
Ms Bolger said gaining the certificate for herself was certainly something on the cards for the near future.
Torrens University Dean of Education Mick Grimley said it was important to note the certificate did not replace the experience of current carers' experience.
"Our course does not try to replace this knowledge nor does it try to say that we know better," he said.
"It gives a framework to think about the issues and the support options from an educational perspective and provides coping skills and techniques to utilise in an educational context.
"The course is designed with the autism community and is informed from a person-first perspective.
"It will equip existing educators with the specialist knowledge to support individuals with autism – there is a real need in Australia for educators to have this type of knowledge because the number of children with autism continues to rise."
Currently about one in 63 Australian school children has a formal autism diagnosis.
Enrolments are currently being taken for the start of the February 2017 semester.
Visit http://www.torrens.edu.au/courses/education/graduate-certificate-in-autism-studies-for-educators.