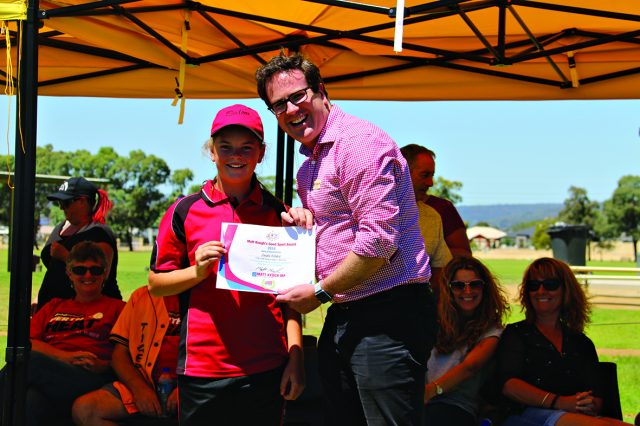 A 12-year-old sporting enthusiast was left feeling surprised and humbled after receiving an award last month following her performance at a tee-ball grand final game.
Jaeda Ritchie from Southern River has found enjoyment in a variety of sports including hockey, cricket and tee-ball and South Thornlie Redsox Tee-ball Club president Damian Rose, who was also Jaeda's assistant coach in the team, said she displayed great hitting skills and had always played in a team a year ahead of her age group.
"Jaeda has previously represented Bletchley Park Primary School in the T20 girls cricket competition and also took part in the Pacific School Games in Adelaide representing WA as part of the under-12 girls hockey team," he said.
On February 25 Jaeda was part of the under-13s mixed cup tee-ball team which took out the grand final win over the Forest Lakes Magpies with a 23-12 victory.
After the game Jaeda was awarded the inaugural Matt Keogh Good Sport Award for 2018, which was awarded for anyone 18 years of age who demonstrated teamwork, fair play, respect, fairness and a sense of fellowship to either opponents or fellow teammates.
Federal Member for Burt Matt Keogh said the awards were a way of highlighting positive aspects of the community as well as encouraging positive sporting participation.
"Jaeda has displayed great sportsmanship and commitment to every team and sport she plays," he said.
"It was my honour to present her with the first Matt Keogh Good Sport Award for 2018."