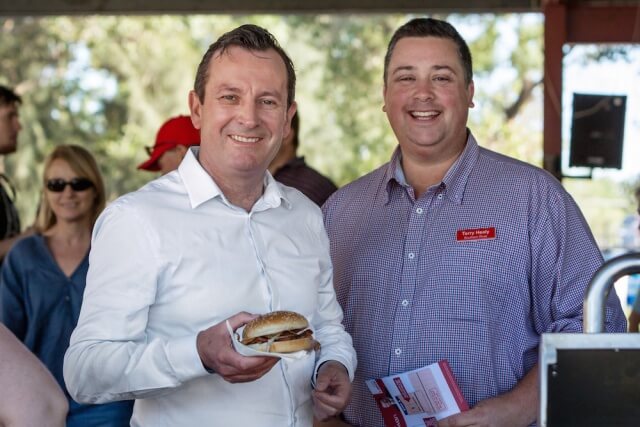 Residents across the southeast metropolitan region eagerly awaited the results of the State Election on Saturday evening, which revealed a major swing to Labor.
Labor Member for Gosnells Chris Tallentire kept his seat receiving 66 per cent of the votes to Liberal candidate for Thornlie Rob Coales' 34 per cent.
Mr Tallentire thanked his campaign team, poll booth workers and supporters as well as the people of Thornlie on his Facebook page.
"Thank you so much for choosing me to be your representative," he said.
"After eight years of the opposition I'm thrilled by the prospect of being in Parliament and being in government."
Mr Tallentire celebrated his win at the Gosnells Bowling Club and said he would begin his role by prioritising infrastructure and service needs in Thornlie.
Mr Coales also addressed his supporters on Facebook.
He uploaded a video thanking them for his support and said he could not wait to contest the next election.
In the Southern River electorate there were loud cheers in Amherst Village as supporters celebrated the win of newly elected member Terry Healy.
Mr Healy received 58 per cent of the votes to Peter Abetz's 42 per cent.
In his victory speech Mr Healy said he was honoured and humbled to have been elected.
He also said some things had already changed.
"Our schools are now safer, we will build the Canning Vale train line and we will build two new primary schools and build new facilities for Southern River College," he said.
Mr Healy said no more families would be told they were not families, which received a thunderous round of applause.
In Forrestfield it was Labor Member Stephen Price who took the win.
He received 59 per cent of the vote to Liberal candidate for Forrestfield Nathan Morton's 40 per cent.
Mr Price said he too was deeply humbled to have been elected.
"I will not take this vote for granted," he said.
"I will work hard to represent the community to the best of my ability."
To view the results of all candidates visit elections.wa.gov.au.