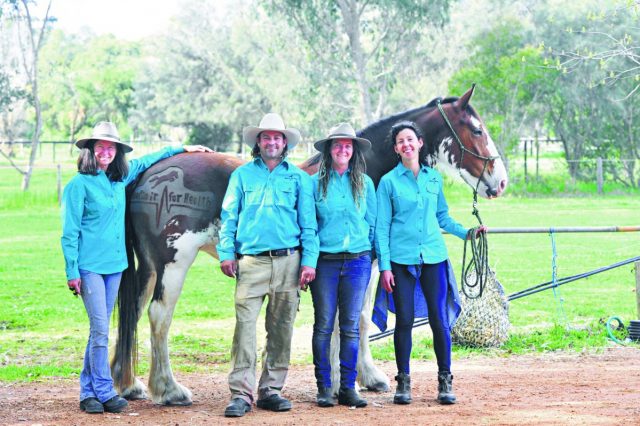 Four people on horseback are currently trekking from the south west coast to the Shire of Serpentine Jarrahdale all in the name of charity.
Eliza Allan, Denise Crosbie, Ben Watson and Louise Crosbie packed up their bags, the horse's saddlebags and their packhorse Splash for the 500-kilometre ride, which commenced in Denmark early Saturday morning.
Dubbed "Hoofin it for Health" the one-of-a-kind ride aims to raise money for beyondblue, a not-for-profit organisation working to address issues associated with depression, suicide, anxiety and other mental health disorders.
Louise said both herself and Eliza had previously taken part in the longest, toughest horse race in the world, the Mongol Derby, however her mother Denise and friend Ben hadn't taken part in any endurance journeys like this before.
"We are allowing 14 days for the ride plus a few extra days for emergencies," she said.
"We won't have a support vehicle so trying to keep the horses safe and secure is going to be a challenge and we have needed to get special permission to go through some towns along the way."
Miss Crosbie said the group chose beyondblue as all of them in some way had been affected or had known someone that had been affected by mental health issues.
"We set a small goal to start with but we have already hit that before the trip has even commenced," she said.
"For us it will be a bit of an adventure and we thought the name 'Hoofin' it for Health' sounded catchy and the name was quite broad so we can use it for other rides in the future."
For more information about the ride or to donate visit the Hoofin' it for Health Facebook page.