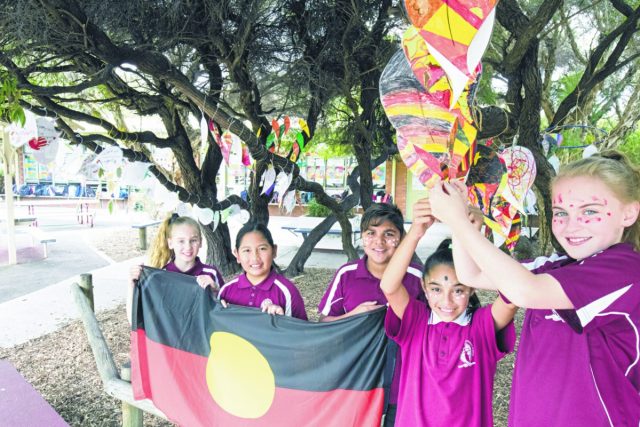 Students have learnt Noongar songs, engaged in the history of traditions and tasted damper as part of Ashburton Drive Primary's NAIDOC Day celebrations.
As the official celebrations fall during the school holiday period the school decided to celebrate early, inviting Aboriginal artist Phil Walley-Stack to attend the opening assembly.
Year five teacher Karen Newman said as the school was made up of approximately 15 per cent indigenous students the staff felt it was important to recognise the Aboriginal culture and learn about the history of yesteryear.
"In preparation for our NAIDOC Day, students in years three to six attended a workshop with the Madjitil Moorna Choir to learn some Noongar songs," she said.
"Classes have engaged in the history of some traditions and stories and have looked at indigenous female roles.
"They have also plaited wrist bands, made damper, practised traditional face painting and storytelling, made bookmarks and decorated hands to display in the windows."
Students worked on a composite mural that will be displayed in the undercover area of the school and leaves decorated with positive messages, quotes and Aboriginal designs are displayed around the school.
Ms Newman said the students enjoyed immersing themselves in the culture and experiencing some things for the first time.
NAIDOC Week 2018 will be celebrated from July 8 to 15, during the school holiday period.