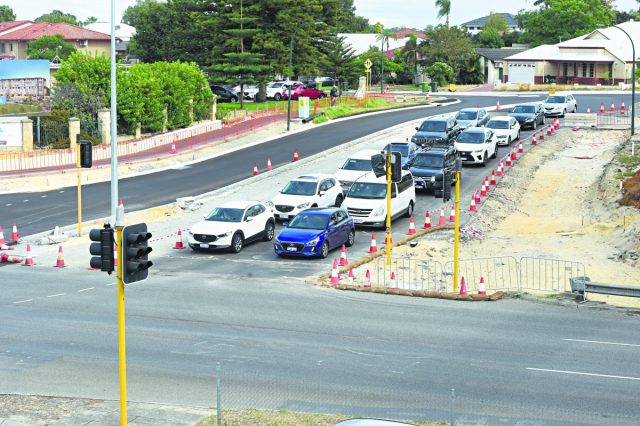 A fibre-optic cable that was not on Western Power's Dial-Before-You-Dig register has caused a delay in the City of Canning's Webb Street-Leech Highway roadworks.
The project is part of a State Government Black Spot funded program secured in 2018 that was sourced in response to a road safety audit and community concern about safety issues at the intersection.
The works commenced in December 2021 and were originally due to be completed in February 2022, however a number of delays have impacted the project.
The latest is the discovery of a fibre-optic cable, belonging to Western Power, uncovered during the excavation and construction works of the new left turn lane from Webb Steet onto Leach Highway, that will see the end date of the project pushed back to June.
Canning Mayor Patrick Hall said that despite the use of ground penetrating radar, the cable remained hidden until it was unearthed.
"The 'Dial Before You Dig' process was followed and prior to construction works commencing, an underground service locating process was completed by a specialist contractor," he said.
"This process included using a ground penetrating radar detection instrument to help identify underground services.
"Unfortunately, the fibre optic cable was not on the 'Dial Before You Dig' plans and was not picked up by the City's service location process."
Works will resume on Saturday, April 9 and there will be intermittent lane closures implemented by the City's traffic management team to provide safe access for completion of the project.
Mr Hall said the delay was frustrating but unavoidable.
"The City is currently working closely with Western Power to lower the fibre optic cable deep enough to complete the project," he said.
"Regrettably the project has experienced some unavoidable delays and I realise that this has caused frustration for local residents and considerable disruption.
"I apologise for the delays and give my assurance that we are doing everything possible to expedite the completion of these important works.
"Once these issues are resolved, the project will resume so the community can look forward to the project's completion and a much safer and less congested intersection."