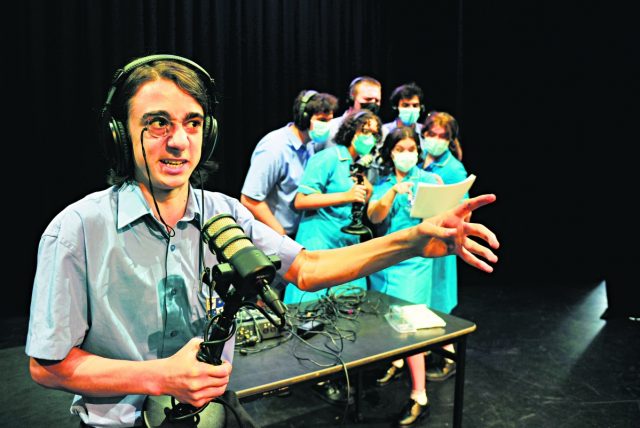 The great Orson Welles' 1938 radio drama War Of The Worlds sent waves of panic through the English public, unaware if the horrors they were hearing on the radio were fact or fiction.
It's easy to draw a parallel to information, or rather misinformation, regarding COVID 19, and while the virus may have scuppered St Norbert College's live theatre performance, drama teacher Kerri Hilton has gone back to the future in bringing back the art of the radio play.
She said that with COVID sweeping through schools, radio plays were the perfect way to keep drama going while staying COVID-safe.
"Two years ago, we had to cancel The Sound Of Music because COVID hit, last year we managed to get Cinderella on fairly quickly in between lockdowns or otherwise," she said.
"This year we were going to do a production called Blood Brothers, it was cast last year, and then COVID shut down all co-curriculum activities so we couldn't do anything.
"We came up with this idea of maybe we should just go back in time and do a radio play, where we didn't have to have a live audience, we didn't have to bring anyone in, the kids didn't have to rehearse a play where they had to be close to each other, they didn't have to be wearing other peoples' clothes.
"We had to do a production for them, something creative.
"The only thing I could think of was a radio play. "
With the College investing in podcasting equipment, Ms Hilton's students began their work in a COVID-safe way.
"The school invested in some podcasting equipment, and as a result of that we've done a radio play, we've done podcasts, and every Tuesday and Friday afternoons they come into the theatre, we sit eight metres apart from each other, they have their own microphones and their own headsets, and I go home and edit them, then they're up on Spotify."
Ms Hilton said the difference between traditional theatre and radio plays was having an impact on the students, who no longer have to be restricted to one role in one play.
"These kids are so adaptable and so creative it's ridiculous.
They love being able to do different voices, the fact they can sit there with a script in front of them, they can rehearse it, they can change their voice and we can rehearse it one day and then record it the next day.
"They adore being able to play all these different characters and playing these different roles whereas in a school production, they get one show, they get one character and they have to play that character all the time.
"This way we're doing Sorry Wrong Number, next week we're doing Pride and Prejudice, the week after that we're doing a Sherlock Holmes play, the week after that we're doing an Agatha Christie play. They're doing all these different voices and characters and loving the challenge of it.
"They're also loving that they can go home and listen to it on Spotify, they've got friends right across the world who are now listening to them on Spotify."
Just don't count on the St Norbert students taking on War of the Worlds.
"War of the Worlds is a ridiculously hard play to do in terms of sound effects.
"It works really well if your sound effects are live, we can't do that because of COVID because it would add more people to the room.
"We're doing radio plays where we can edit in and we can edit sound effects in afterwards and that's what I do after they've recorded it."
To check out the work of the St Norbert students on Spotify, search for SNC Radio Plays and Podcasts.