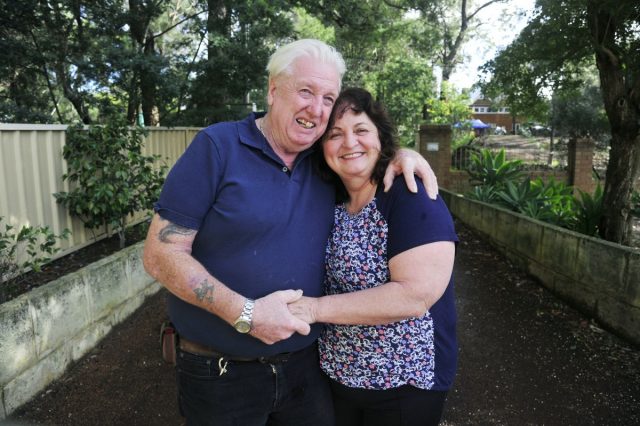 Within six to eight weeks, 62-year-old Colin Wilkins who suffers from Parkinson's disease will face his last chance of available treatment to improve his quality of life by undergoing a Deep Brain Surgery (DBS)
In 2004, Mr Wilkins was diagnosed with Parkinsons and has since tried a number of treatments including acupuncture, physiotherapy, gluten free diets, herbal medication and high doses of Kelp.
Without any present government assistance towards Mr Wilkin's medication, the costs can be between $280 to $300 a month and the surgery is expected to dramatically reduce medication, to as little as one tablet per day.
Due to the medication Mr Wilkins also has dyskinesia, which refers to involuntary muscle movements which his wife Jillian describes as frantic.
"These movements can be so strong and regular that whilst sitting at the traffic lights the car can be physically rocking," she said.
"At the end of each one of these days he is exhausted."
The former Gosnells and Kelmscott resident also suffers from night terrors and very lucid dreams, he wakes up frozen for 30 to 60 minutes every morning, he is unable to put his own shoes without assistance and has had several falls that have resulted in him breaking his wrist and needing surgery.
Mr Wilkins, who is known for being a loving quiet man with a quirky sense of humour, has always been the one to assist other people with a helping hand.
Despite having top private health insurance, to cover the costs of the DBS there is a financial gap of $10,000 and with minimal time to raise this money, Mrs Wilkins is seeking assistance from the community to spare a couple of dollars towards the much-needed treatment.
DBS has been shown to relieve up to 90 per cent of symptoms but the risks can include personality changes, addiction and the possibility of a stroke.
However, due to his condition Mrs Wilkins said this is the first time in years, that she is feeling optimistic about their future.
"Colin is apprehensive but due to his age and the fact that the disease has progressed quite quickly in the last three years, believes it is his best hope for a quality of life for the future," she said.
"He fights every step of the way to hold this terrible disease off.
"I understand why people choose not to have this surgery, considering the cost and that most people are older when they are diagnosed.
"The effect that it has had on our family is greater than most people would expect.
"I have had to face the fact that I may spend the rest of my life looking after Colin, and our daughters have also changed theirs to accommodate his requirements.
"But I am also grateful for the support that we have had from family and friends over the last several years.
"In today's society when there are many negative actions, but we have seen the positive in our circle of friends, I believe in Karma and we certainly will be paying it forward."
If you would like to donate towards Mr Wilkin's DBS visit gofundme.com/f/better-quality-of-life-with-parkinsons.