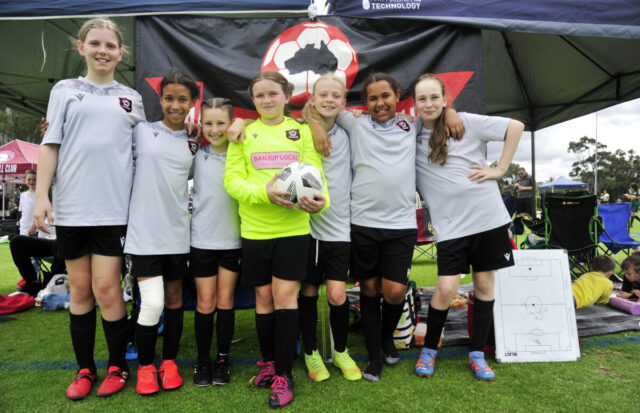 With Tilly-mania still lingering, a couple of hundred girls took to the Forrestdale soccer field on Saturday to test their mettle for the rare chance of a medal.
Armadale Soccer Club hosted its second annual Armadale Girls Cup, with 18 teams from all over Perth vying for the gold.
Unfortunately, neither of the Armadale teams were successful in their play for the finals.
Winner of the U10s division was Sorrento Football Club, with Auburn Grove United taking out runners up.
In the U12s, Auburn Grove got the gold, with Perth Saints taking home the silver.
Mayor Ruth Butterfield and Cr Michelle Silver were there to hand out the medals to the winning teams.
Club volunteer Lindsay Aldrick said girls' soccer is on an upward tick with the recent World Cup hype definitely feeding into that. She said she's really excited about the trajectory of the Armadale Girls Cup with entry to this year's event selling out in record time.
"It grew a little from last year, and I think next year will be even bigger. I really hope it just keeps on expanding," she said.
"Compared to last year the standard has gone up too. It was great to see how well the teams played and passed the ball around – it was awesome.
"It'd be nice to see a few more female refs and coaches in the future too."
She said the club had received great feedback from other clubs' coaches who were impressed with how smoothly the event was run.
"We've got a really dedicated bunch of volunteers here who work really hard. I think that makes all the difference," Lindsay said.
Those volunteers are taking a few days' breather before launching head first into the two-day mixed-round Armadale Cup this weekend at Morgan Park.
"This weekend's going to be massive," Lindsay said.
Any girls aged 5-11 interested in learning soccer can sign up to the Girls Kick Off Program which runs over four weeks from Wednesday, October 11.
No previous skills are required, and registration details can be found on the Armadale Soccer Club Facebook page.
Photographs – Richard Polden