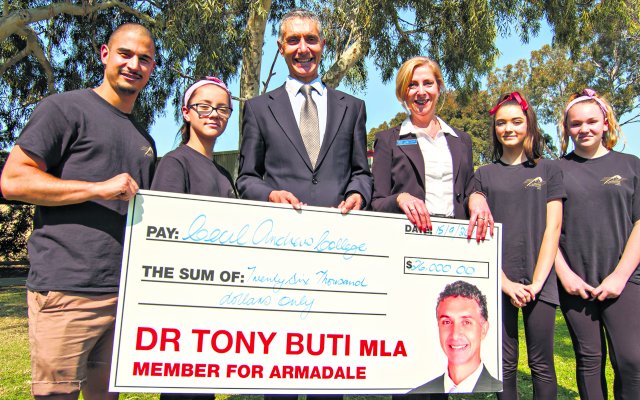 Cecil Andrews College has received two grants valued at $29,000 for two student projects.
Member for Armadale Tony Buti presented two cheques to the school on September 15, which will help build a television station at the school as well as support an Indigenous Australian tutoring program for students in the south eastern corridor.
As part of the State Government's Local Projects Local Jobs funding program, $26,000 was provided to support the development of the television studio.
The Follow the Dream tutoring program received $3000.
Speaking about the television station, Cecil Andrews College principal Stella Jinman said it was important for schools to teach a curriculum with direct applications in the real world, and which kept up to date with modern trends.
"This generation is very switched on," she said.
"This will allow them to use their whole selves: their bodies, their minds and they will be engaged more around the curriculum."
The school expected building of the television station would begin early 2018.
The Follow the Dream program supports Indigenous high school students trying to get into university and high-performing vocational education and training students.
While the program is based at Cecil Andrews College, it takes in students from schools in the surrounding areas including Kelmscott, Byford, Lesmurdie and Armadale.
Ms Jinman said continuing to offer the Follow the Dream program would have huge benefits for the area's Indigenous students.
"The tutoring is making a difference academically, they are achieving much better results," she said.
"It takes funding to do that and the more we can stretch funding, the more we can help students to lift personal aspirations."
Dr Buti said he was excited to see what the school could do with the funding.
"It's hard to engage students," he said.
"I think the television station will be a great community engagement and education tool."
He also said he was hopeful the Follow the Dream program would continue to deliver results.
"It's very inspirational," he said.
"They do their normal school work, then after school they get tutoring.
"It's tutoring paid for by the program, it's free for all users."